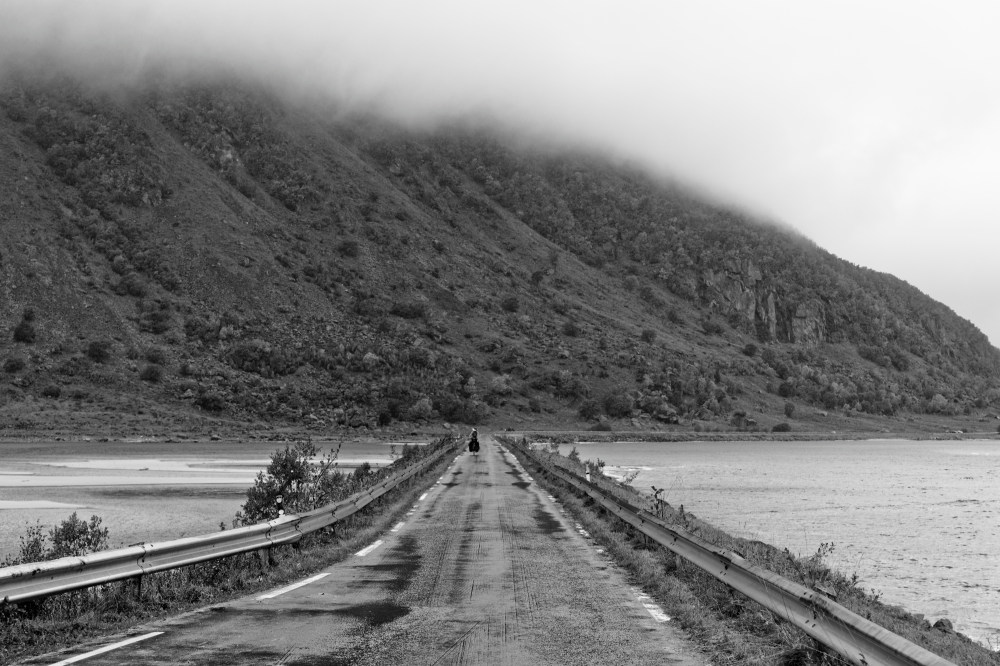 Unlike Christine, I slept badly again. We had some light rain during the night but heavier when we emerged from the tent. I checked the weather forecast which indicated rain until around 13:00.
It eased to allow us to take down the tent and we loaded up under the shelter of the service block awning. The intensity ramped up as we were about to leave so we delayed again, finally we were away round the quiet coast road to meet the E10 at the ferry port of Fiskebøl, still an enjoyable ride despite the rain. Autumn was more advanced than back home, the colours were lovely.
We made the 13:15 crossing with twenty minutes to spare, very few passengers and vehicles crossed with us. The journey lasted only 25 minutes so we were surprised to find free wifi and a cafeteria, we took advantage with coffee and chocolate muffin. We landed at Melbu on the isle of Hadseløya, one of the Vesterålen islands. The co-op supermarket was just around the corner from the landing stage so we shopped for lunch, dinner and tomorrow's breakfast. The rain was fizzling out but being still cold and damp we took our bikes into the empty ferry waiting room to lunch there.
It was only 16km to our campsite but we spotted a brown sign recommending an alternative for cyclists at 26km so we followed it, a much quieter road along the coast.
The campsite is attached to a hotel, the Vesterålen Krysthotell, we paid our hundred kroner and looked for a pitch. The site was better suited to caravans and camper vans, the grass was bumpy and mostly on a slope but we found a small level area that was acceptable and just big enough to fit our tent. The showers were free, making this the cheapest site so far, and the heated kitchen was equipped with a pair of four ring cookers and a number of pans. Unfortunately there was only one chair so I sat on a stair to eat.
Distance cycled: 67 km