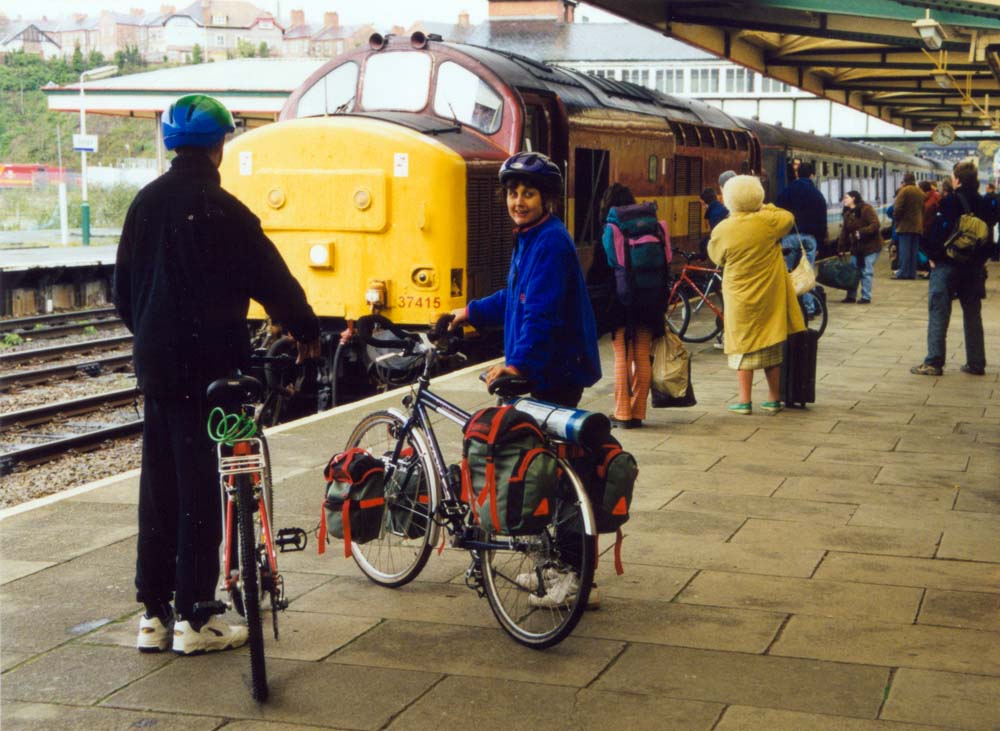 Lon Las Cymru, Sustrans Route 8, runs the length of Wales. There are alternative starting points, Cardiff and Chepstow – we chose the former as we wanted to visit friends on the way in Brecon – and alternative sections elsewhere on the route. One day I'm sure we'll return and cover the sections we missed. Three of us were on the trip, my wife Christine and I and our 15 year old son Rowan. Christine and I had done a lot of cycle touring before the kids came along but since then just trips from home and for me cycling the eight miles from home to my workplace at the University in Bangor. Rowan had only ever cycled on day trips and without carrying luggage so we spared him the panniers and took all the luggage between the two of us. We needed a full set of new kit too, we chose Dawes World Tour touring bikes as being suitable for both road and track, and Carradice panniers.
We could only go during a school holiday and we also run Graianfryn Vegetarian Guesthouse so school holidays are busy for us. We decided to set off on Easter Monday so we could still take the weekend bookings, stay two nights in Brecon to see old friends, and get back home on Sunday. We're only about four miles from the route near the northern end so the idea was to cycle home then complete the Anglesey section at a later date, this would just involve taking the train to Holyhead and cycling back home from there. Rowan was a bit worried when he read in the Sustrans guide that Lon Las Cymru is "the toughest section of the National Cycle Network"!
We needed to transport our bikes from Bangor to the start of the route at Cardiff, having decided to cycle north to gain the advantage of the prevailing south-westerlies – as luck would have it we faced a stiff cold northerly wind for the full trip! Getting to Crewe was easy as the North Wales Coast line is one of the last refuges of traditional locomotive-hauled trains with capacious brake vans. Crewe to Cardiff was the problem – there's a direct rail service and I used it a lot in the seventies when it was operated by similar trains. They've since been displaced by the dreaded Class 158 diesel multiple units with a maximum capacity of two cycles so we had to choose between travelling separately or making a big detour via Bristol so we could travel on HSTs. We chose the latter. A couple of days before we were due to leave I checked Railtrack's web site to confirm the time of our Bristol-Cardiff connection and discovered it would be replaced by a bus service on Easter Monday because of engineering works. I don't know if the railway company made any provision for cyclists, it would have been interesting to find out, but we weren't going to take any chances so I called into Bangor station where I was advised to travel from Birmingham to Cardiff instead and given cycle reservation tickets for three bikes.
We set off for Bangor railway station just as the snowstorm was tailing off! Initially our bikes felt strange with fully-laden front and rear panniers. We arrived just before the next blizzard and waited for the 11:16 to Crewe. Normally this train goes to Birmingham but today it was curtailed by engineering works so we had to wait for the Virgin HST to take us to Birmingham. We knew coach A carried the bikes and asked the Virgin employee on the platform which end of the train it would be. He phoned someone on his mobile, relayed the answer to us and we stood poised to load our bikes. In fact coach A was at the opposite end so we had to race down the platform to load them! There were two bikes already on board and our three filled the remainder of the available space. Bikes are locked in on a HST so you can't afford to be last off at your destination!
We had an hour to wait at Birmingham before the Cardiff train pulled in – a 158! The guard was obliged to let us board since we had cycle reservations but wasn't too happy about it and turned away a French cyclist who was without this vital document. We only just managed to squeeze two bikes in the designated space, the other was wedged by the door and we had to move it every time someone wanted to get on or off. Not very good. At Cardiff we made for Austin's Guest House, close to the station, right on the cycle route and facing the river so free from traffic noise. After a shower we refuelled at Pizza Express, had a quick look round the pleasant city centre (it was very cold) and went to bed.
Here's how we got on. Mileages are estimated.
Day 1 – Cardiff to Llanfihangel Talyllyn (58 miles)
Day 2 – Llan Talyllyn to Rhayader (41 miles)
Day 3 – Rhayader to Corris (40 miles)
Day 4 – Corris to Dyffryn Ardudwy (24 miles)
Day 5 – Dyffryn Ardudwy to home (42 miles)
Day 6 – Home to Holyhead (37 miles)