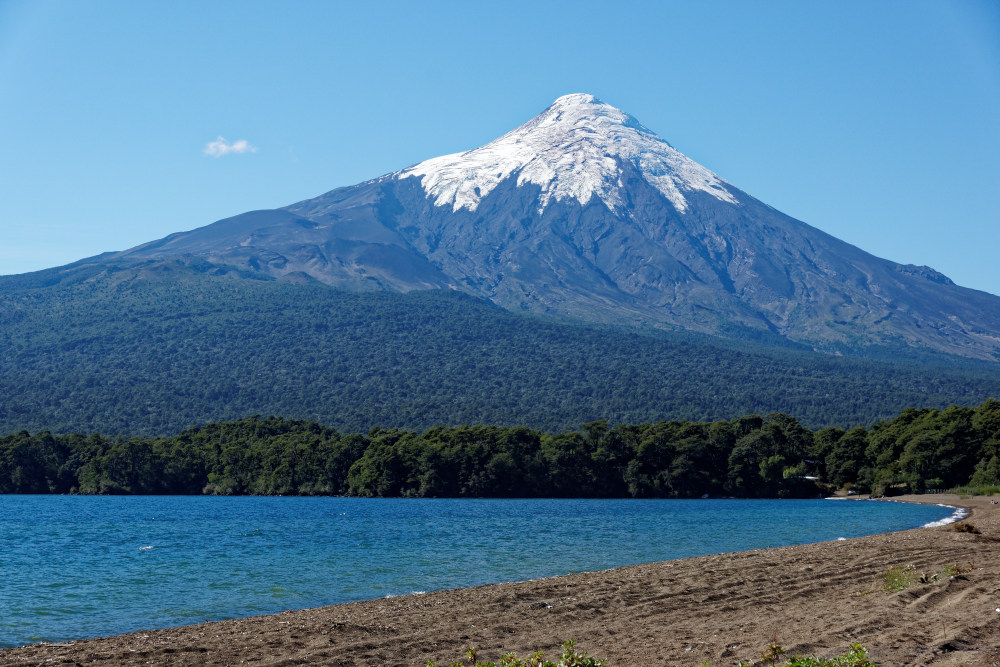 A beautiful sunny day for our ride to Ensenada and we were soon out of the town and onto a good cycle track alongside the road. It was disappointingly distant from the lake, affording us only occasional glimpses but Volcan Osorno became increasingly prominent in the landscape with its snow covered cap.
This region was settled by Germans in the late 19th century, encouraged by the Chile government. Like the Welsh settlement in the east of Patagonia, their descendants are Spanish speaking with Spanish Christian names and their heritage survives in the architecture, surnames and… cake! We paused for coffee, predictably instant, and apfel strudel at a café, sitting outside in the shade as respite from the sun.
We'd almost reached Hamilton's Place, our home for the night, when Christine had yet another puncture on the rear wheel. My heart sank at the thought of yet another repair, then I pumped it up sufficiently to get us the half kilometre to the hospedaje. It was a modern house in a lovely setting with a garden and a view of the volcano from our bedroom, polished wood floors and balconies. We walked into Ensenada, little more than a collection of houses,  cafés and restaurants to visit the tourist office and decide where to go tomorrow.
We returned to fix the puncture, another tiny pin prick and I started wondering if there'd been a defect in the manufacturing process. We ate at Hamilton's Place, whose owner prepared a very good three course vegetarian dinner for us. The name reflects the family's Canadian origins. Seven Argentinian motorcyclists arrived while we ate.