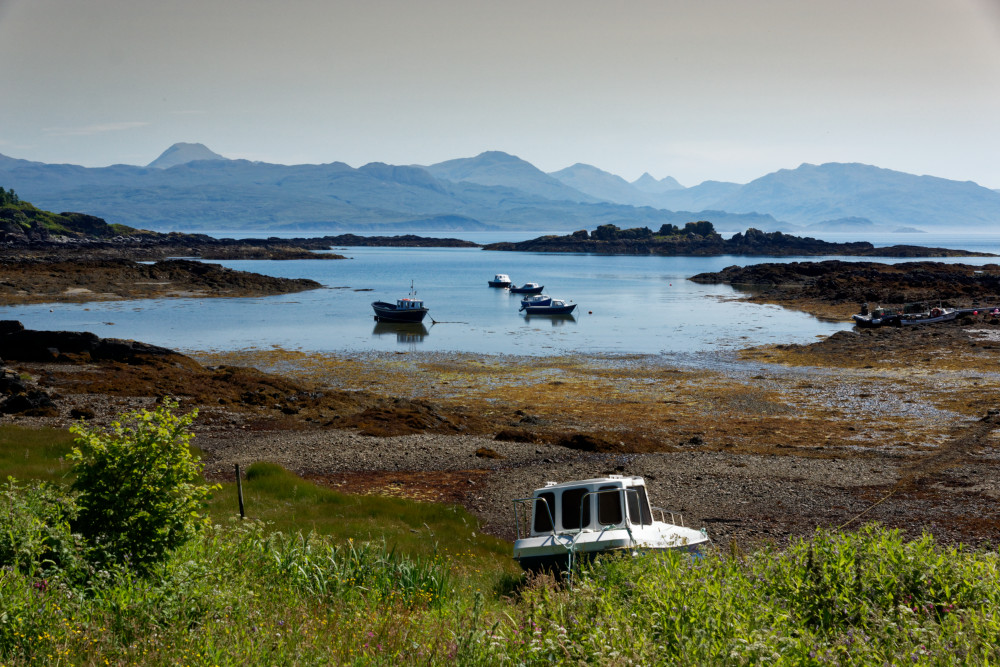 An unhurried breakfast at the hostel preceded the 09:40 ferry to Armadale on the Isle of Skye. We enjoyed the short crossing on deck in shorts and t-shirts and sat outside with coffee and cake on arrival at the port.  Then Christine turned right to get her chain replaced at South Skye Cycles, having spoken to Andy the previous day to arrange it. Andy was incredibly helpful, getting the correct chain transported from the bike shop in Portree in time to fit it.
Rowan and I turned left to cycle to the end of the road, which wasn't far and looked fairly level from the ferry. It was actually hot, hilly and hard. We returned past the port and soon after we turned left off the main road onto a narrow one over to the west coast, an initial climb then undulating and down to the beautiful coastline for views across to Rum.
Sunny westward views made for a delightful run to Ord where we met Christine and completed the loop to the east coast. Christine had a sudden nosebleed on the way. A passing coastguard supplied tissues and water, we had little left, and stayed to make sure she could continue. We turned left along the main road and soon encountered a great cafe in the An Crubh community hub for cake, cold drinks and espresso. They refilled our  water bottles to send us on our way.
Andy at South Skye Cycles had told Christine of two long unmarked stretches of old road which ran roughly parallel and to the west of the wider new replacement. The new road wasn't too busy but the narrow old road was much nicer. The first section started by a bus shelter soon after leaving the cafe, the second by a gate. Both are visible on Google Maps.
We reached Skye Basecamp at 18:00, the hostel was very busy but we had a private room for the three of us. Christine and I first visited Skye in the 1970s before construction of the bridge. All the roads were narrow, winding and hilly with passing places and Broadford had only the SYHA hostel, now there are also two independent hostels as well as hotels and B&Bs but advance booking is strongly advised in the summer season.
Distance cycled : 34 miles