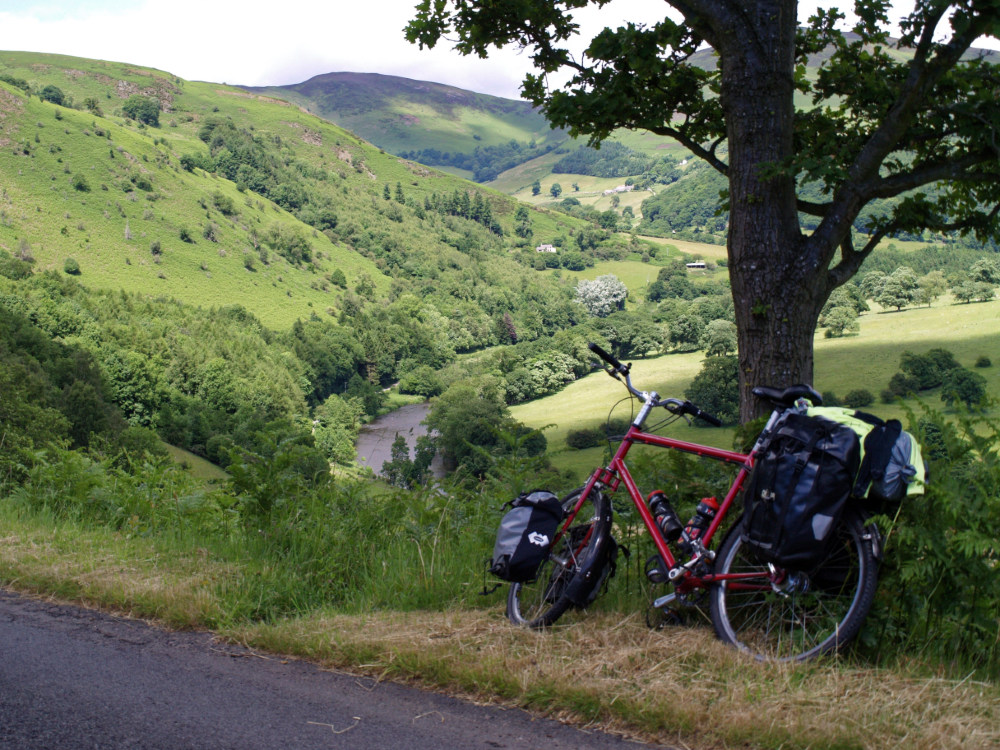 The rain had passed, and we set off at 09:00, heading for NCN16 which goes along a narrow lane in the Dyfrdwy valley and crosses the river by an ancient bridge to meet the B4401 at Cynwyd. Rowan shot off ahead and didn't wait for us at the junction: left to NCN16, right for the B4401. He's normally very good with directions so figuring he probably went left, off we went along the delightful little lane devoid of motor traffic. We passed a horsewoman who told us she'd not seen Rowan, at which point we realised he'd probably gone the wrong way.
He wasn't waiting at Cynwyd – pity he'd forgotten to bring his mobile phone. Christine cycled on to the A5 junction while I rode back along the B road towards Bala, sighting him at some road works after about seven miles. After we'd all joined up again, we at last could proceed to Corwen and turn off the main road onto a lovely little lane along the opposite side of the Dee. Lovely views of the valley, no motor traffic and the distant whistle of a steam locomotive on the Llangollen Railway transported us back in time as the circuitous route wound its way towards the town. From Llangollen the A5 took us to Chirk where we turned off for Ellesmere. The roads around here were quite busy. I stopped to photograph the abandoned Ellesmere station, which saw its last passenger in 1962. In the town centre, the others were waiting with bad news.
Rowan's pannier rack had snapped. The town has no bike shop and the aluminium rack couldn't be welded. We established that Halfords in Oswestry had a rack in stock so Christine took a taxi while Rowan and I went for a drink – the taxi driver let us store our bikes in his garage. She arrived back at six so we fixed the new rack and headed for the wharf to gain the Shropshire Union canal towpath. It was a lovely evening with barges moored and picnickers on the canal bank. A family of canada geese floated by, then a mallard with six ducklings.
We encountered difficulty in locating the correct bridge for the road to Wem, after a couple of false starts we were off and entered the quaint but run-down town and through the other side to the caravan park where we camped. The Portugal v Germany Euro 2008 football was on television in the site bar but we hadn't yet eaten. I'd have settled for a couple of pints and some peanuts in front of the screen but instead we rode back into town and enjoyed a very good dinner at Shabab Balti Centre – highly recommended if you ever pass this way. We returned to the campsite in the dark, showered and crawled into our sleeping bags.