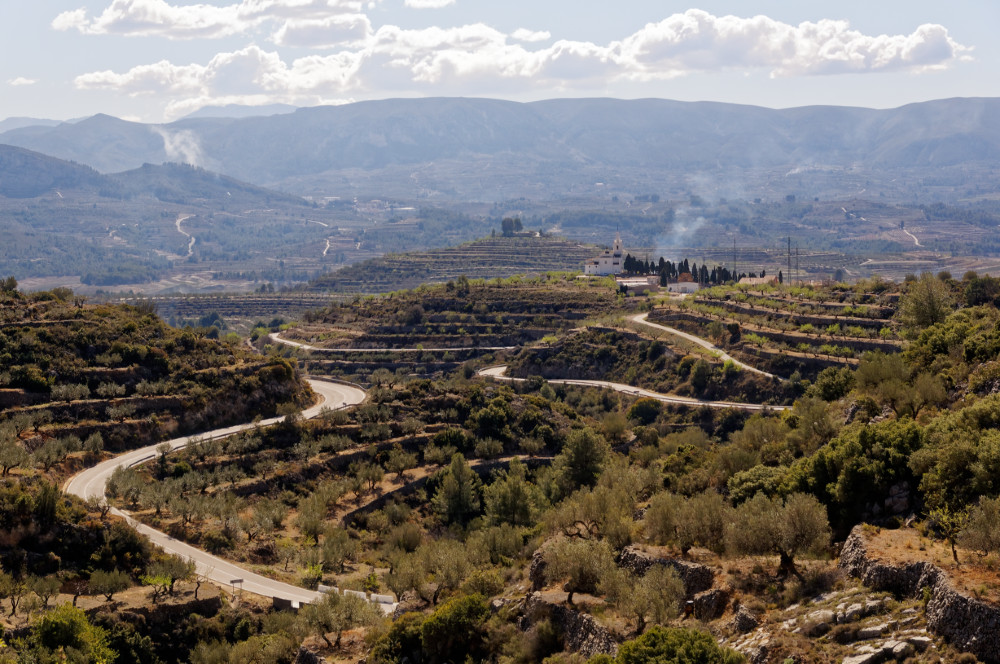 Another sunny but cool start and not so windy so the temperature soon began to climb. We could have caught the train to Valencia but opted for the more ambitious 100km ride with a long hill climb. The road twisted and turned as it ascended but the gradient wasn't taxing, after which we followed the valley down to the coast. The motorway came into view and we had the usual trouble locating the old road which now serves as a cycle track but with the customary absence of signage.
The cycling was fast and easy on the flat with the scent of orange blossom in the warm air. We passed a monastery and soon after our serenity was destroyed by a puncture, my first ever on the Thorn Raven. It had been a long time since I last had to disengage the Rohloff hub to remove the wheel so I had to refer to the instructions. Having fixed the puncture, I had great difficulty in reconnecting the cables but eventually managed it and we were underway again, having lost an hour.
We reached Gandia and found our way to the quiet promenade before transferring inland to the road. We weaved through tall reeds along the fast route which took us to Cullera, built on a rocky promentary. From here it was a straightforward ride along the coast road into Valencia but we had arranged to meet our daughter, who was working in the city, and were concerned we wouldn't make it in time.
Luckily, the railway connects Cullera and Valencia with a frequent service so we took the train into the Estacion du Nord and found our lodgings. After a quick shower and change we walked to the restaurant where we'd arranged to meet Sarah, arriving exactly on time at 20:30.
We'd arrived in Fallas week so the streets were noisy with fireworks as we walked back to the hostel.
Distance cycled : 94km with 575m of ascent