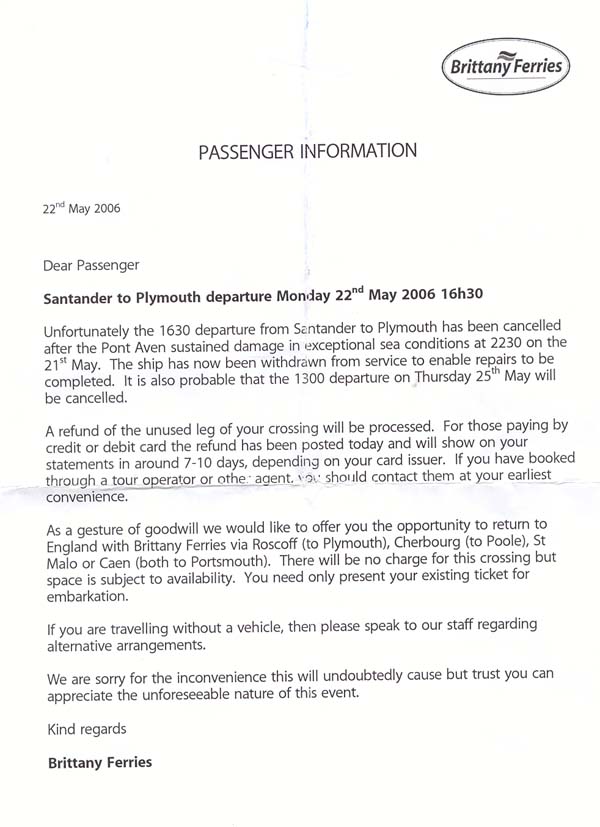 We collected our bikes and went to the railway station, leaving enough time for breakfast. The FEVE café was still closed at 08:00 with no indication as to its opening time, so we went round to the RENFE side of the station where their café was open. Then back to the FEVE side where we took turns to squeeze our bikes into the lift, dropped down to the platform and onto the 09:05 to Santander. The tickets were only €12.25 each for the 196km ride which was scheduled to take 4 hours 41 minutes. It's not a fast line!
We sat back to enjoy the views. We lost some time at Carancos waiting for a westbound freight to clear the single-line section but soon regained it. The clouds gathered as the morning progressed. We had to wait again at Puente San Miguel for a mixed freight train comprising tankers, steel coil, containers and empty flat wagons. Overhead electric wires reappeared as we approached Santander.
It started to rain soon after our arrival so we popped into a café before proceeding to the ferry. We were confronted by another ferry farce (following our last continental cycling holiday, to Corsica). The boat had been damaged by a storm during the outward sailing so the crossing was cancelled. We were given the option of hanging around Santander until the vessel was repaired, or taking the next day's sailing from Roscoff in northwest France. A coach was to be laid on for foot passengers but the Brittany Ferries staff were nonplussed when we and a solo cyclist explained we had bikes. This was somewhat bizarre, as we'd booked our bikes on the crossing so they were on their computer system.
They told us that there was space in the coach but we'd have to transfer onto another coach at Bordeaux and there was no guarantee that this second coach would have room for our bikes, so there was "a high probability" that we'd be stranded in the middle of the night! Hanging around indefinitely in Santander was not an option so we just had to risk it.
The coach left at 17:15, a television cameraman recording our departure, stopping a couple of times for toilet breaks on the way. The scenery was interesting along northern Spain, through the mist, then past endless forestry plantations until darkness fell. We reached an autoroute service station at 23:00. The Brittany Ferries staff on board the coach kept quiet, so we had no idea whether a longer break was scheduled. They were nowhere to be seen as the French drivers organised the luggage transfer and presumably they slipped back on board the Spanish coach to return to Santander, as they didn't board the French vehicle. In contrast, the French drivers were excellent and there was no problem stowing the bikes in the luggage space.
There were quite a few elderly passengers, including a 90 year old man travelling alone, and the French drivers didn't speak much English, so there really should have been a Brittany Ferries presence all the way in case of problems. They simply dumped the responsibility onto the drivers of the hired coach. At first, there was a panic that there were insufficient seats, but everyone found one with none to spare. The seats were rather hard and there was minimal legroom, this bus was not suitable for overnight travel. Apart from a short stop every couple of hours for the lavatory and to change drivers – and to keep deep vein thrombosis from attacking our legs – we kept going, reaching Roscoff at 08:00, almost 15 hours after departure. I'd be surprised if anyone got any sleep.