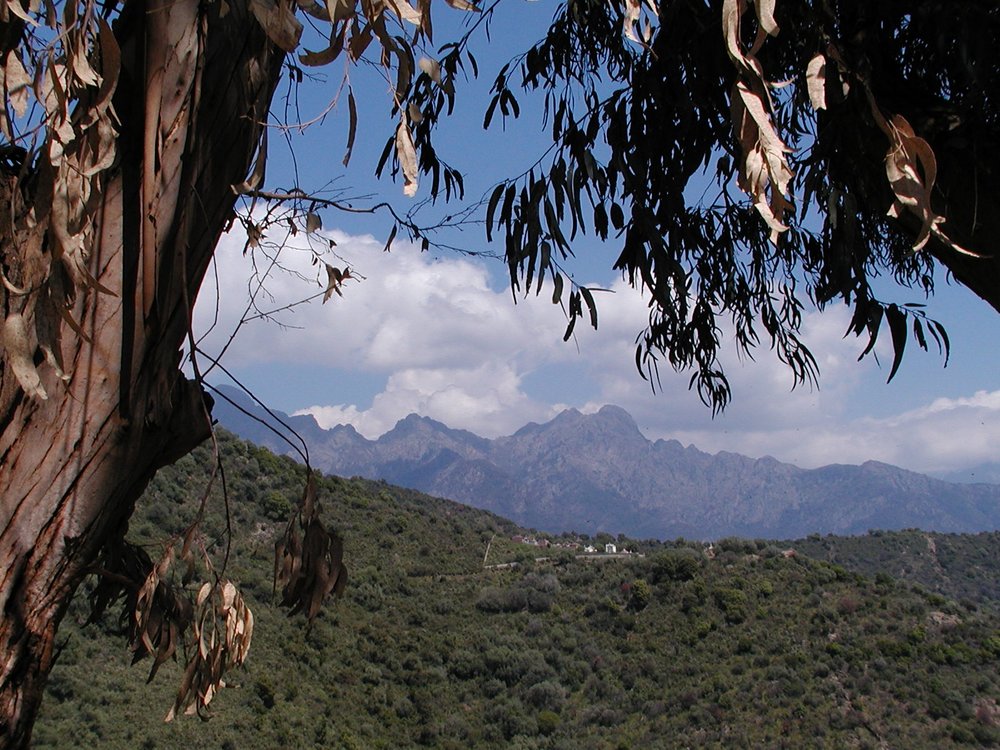 We rose soon after 07:00 and could already hear hikers tramping off, presumably to avoid climbing up during the hottest part of the day. We breakfasted in the garden, having the luxury of table and chairs plus excellent coffee from the Gite.
It was a steady climb up to Col de la Croix, after which the road surface deteriorated for the descent which limited our speed as we watched out for potholes. It was hot by now, no cloud and little breeze. The scenery was again stupendous with lush green forested hills, the sparkling azure Mediterranean and bare ochre coloured rock.
We picnicked at the next col, followed by a drink at the café, being more in need of the shade it provided than the refreshment. Then a long descent along the wildly variable surface, from smooth new tarmac to dusty dry earth to sections where the worn out rutted carriageway was still extant, past towering rocks and often only a low wall or a line of small rocks giving inadequate protection from sheer drops. We had to coax our legs back into action for a long gradual ascent before dropping down sharply into Porto.
We pitched our tent at the Sol e Visto site on the approach to the town, conveniently situated by two supermarkets – except they were closed, this being Sunday. Like many Corsican campsites, it is terraced. We booked in for two nights and camped near the bottom, this being handier for the shops and town. We were close to a washroom block but this one didn't have hot water, which I didn't discover until I was in the shower with shampoo in my hair. The others learned from my experience and sought out the facilities at the higher level.
Since we had no food we had to eat out and opted for Le Sud rather than one of the numerous pizza places. This was mentioned in the Rough Guide as the best place in town and a Vegetarian Platter was on the menu. We ate outside overlooking the river as the setting sun deepened the red of the rocks. The meal was lovely and presented well, as was the wine and the pudding – I chose croustillant chocolat, consisting of a mint water ice, two soft wafers filled with a rich chocolate sauce and a chocolate confection – was gorgeous. A middle aged couple from Newcastle were on the adjoining table. They'd spent ten days on the east coast before coming over to Porto and had poor weather, cold with quite a lot of rain, so we'd certainly been lucky with the weather so far.