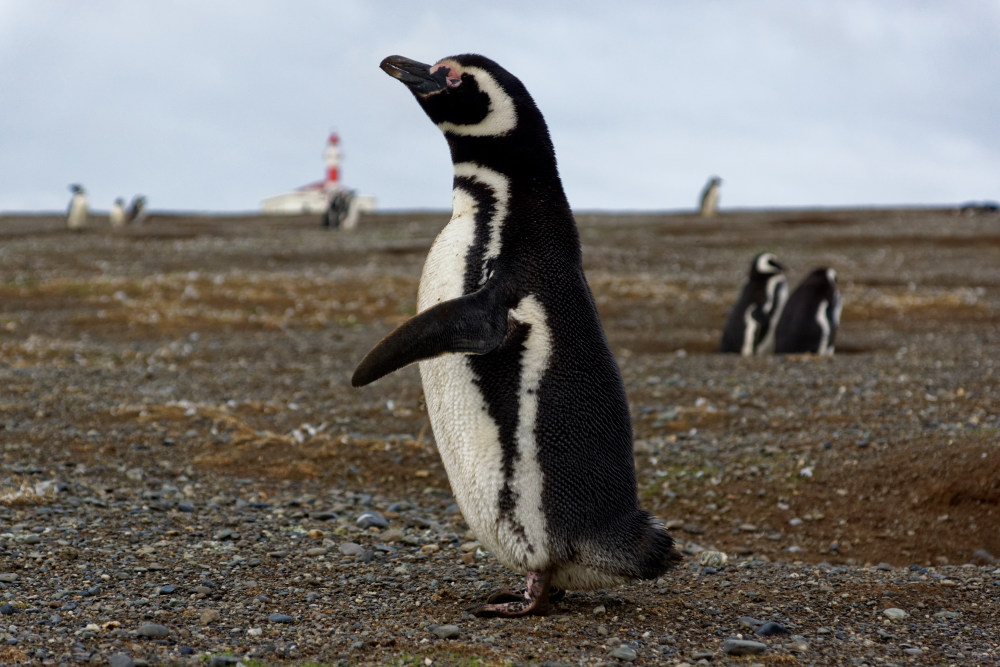 We had to be up early for breakfast and to walk to the Solo Expeditiones office for 06:30 for our boat trip to Isla Magdelena. We woke to heavy rain but thankfully it cleared in time. We walked along the empty streets at daybreak and travelled in two small buses and a minibus to the jetty where we boarded the boat.
It was cloudy but bright as we landed to walk along a roped path to an interpretive centre at the lighthouse and continued round to the boat. It was a relaxed walk with plenty of time for photography and the sun made an appearance towards the end. We were surprised how tame the penguins were, some even crossed onto the walkway for a closer look at their visitors. On the return boat ride, we passed by Isla Marta where masses of fur seals and sea lions basked but binoculars were essential as we were such a long way from the shore.
On our return, we tried Café Marmita for lunch, a good choice. I had an excellent corn and bean pie, Christine had bean stew and we both followed with calafate and sour cherry and rhubarb ice creams, beautifully presented and accompanied by local negra beer. We looked in at the museum but were too weary to appreciate it so stopped off at the Unimarc supermercado and a panderia and returned to the hostel to cook and to arrange accommodation for tomorrow.