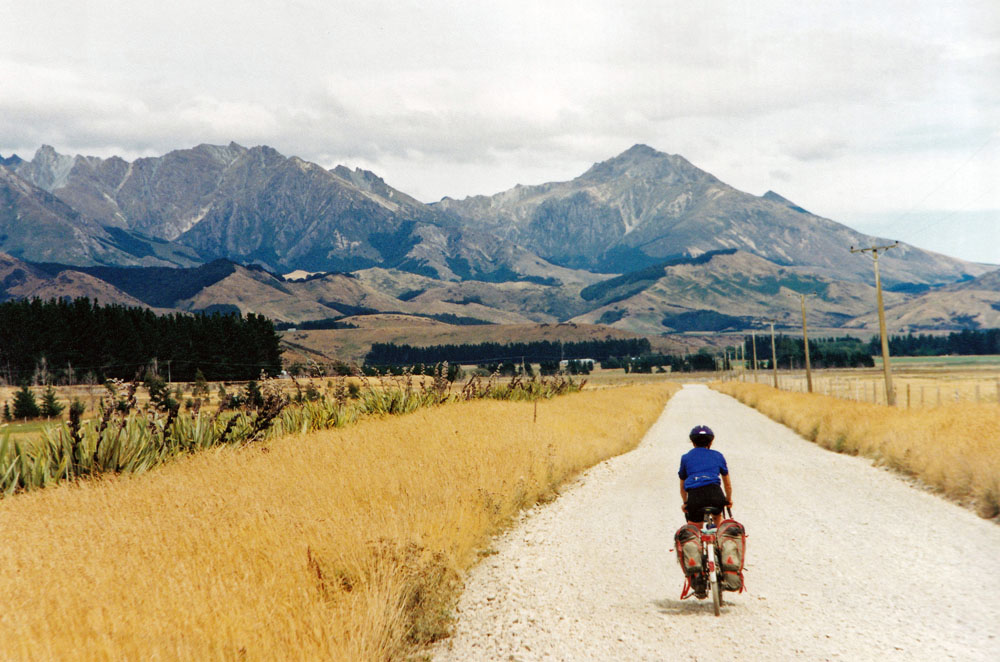 There'd been a little overnight rain and a few drops greeted us as we emerged from our tent at 06:50. By the time we'd collected water, boiled it, breakfasted, prepared our lunchtime sandwiches and chatted with the other cyclists almost three hours had passed and the sun was out.
We'd been warned that the road from here had been recently graded. This process involves a big yellow vehicle scattering gravel evenly across the road to prevent potholes forming, but makes the surface difficult for cyclists until the gravel is compacted. Initially, passing cars form channels, banking up the gravel. The gravel also collects on corners and Christine came off on one – luckily her full rear panniers absorbed the impact and prevented the bike from going fully over.
The views were more open than yesterday so not so dramatic, and there was a little more traffic. The Swiss cyclist who'd almost started the fire overtook us, then an Australian couple while we were taking an early lunch. We caught up with the latter at the junction with the main road – they'd followed the Swiss off the TSS Earnslaw and he'd dropped a bunch of bananas from his bike. They didn't see him at the camp site so ate them!
It felt strange riding on a sealed road again but a lot easier than the gravel. We stopped by a dried up river for a drink from our water bottles. A wizened old countryman of 86 was chopping logs and told us of his youth before government drainage schemes and road improvements had tamed the land. The river never dried up and he used to hunt deer and shoot wild pig. He advised us not to blink else we'd miss Te Anau.
We'd expected another Queenstown but our aged friend was right. We booked a $40 cabin for three nights at Te Anau Holiday Park, shopped, cooked and went for a stroll along the lakeside. There we bumped into our Swiss friend and amused him by recounting the fate of his bananas.