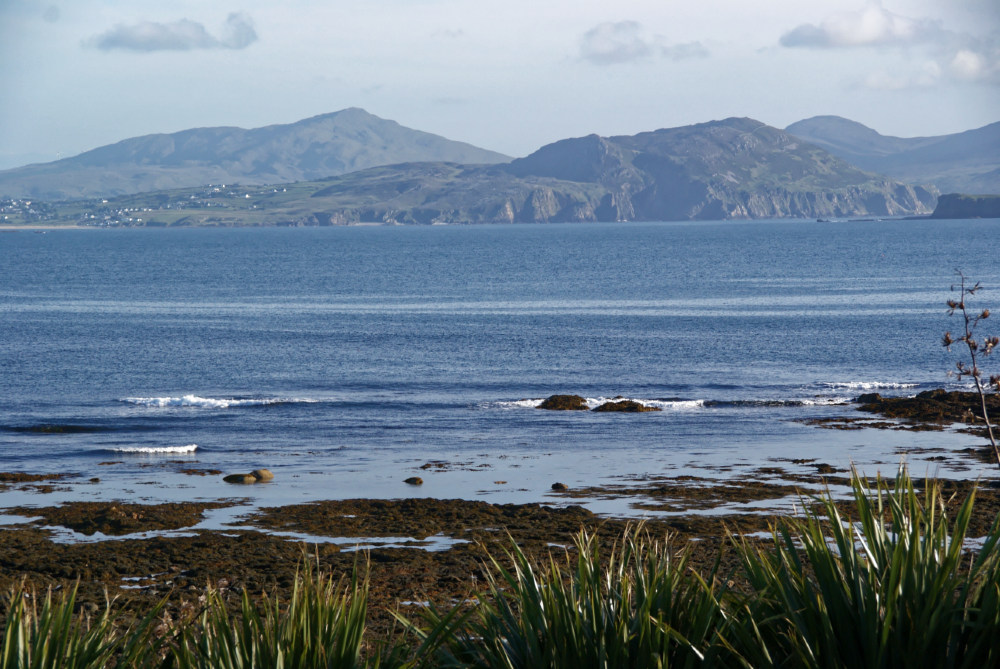 A cool damp start again as we pedalled out to Coleraine, bypassing the town centre and continuing on to the National Trust's Hezlett House, dating from the 17th-century and one of the few buildings in Northern Ireland surviving from before the 18th century. It's preserved in Victorian condition, and we were fascinated to learn that Victorians slept sitting up as they were worried about dying of respiratory ailments in the night, so beds were rather short by our standards.
We moved on a mile or so to Downhill House and Temple and after a good look round we proceeded to Downhill, by which time the early gloom had given way to warm sunshine. Pleasant scenery with occasional sea views. We reached the ferry at Magilligan's point nicely in time for the 14:15 crossing to Greencastle to take us from Northern Ireland to County Donegal in the Republic. There's a rather grim prison on the road down to the point with people hanging around outside, we couldn't tell if they were staff or visitors. There's an army firing range adjacent to it.
We asked for three singles on the ferry and were given two adult and one child/senior ticket, I don't know if the ferryman thought Rowan looked young or I looked old! At the other side we refreshed ourselves at Maud's cafe in Moville, where a young cycling family also paused. We carried on towards Malin Head but signposting was very poor, the minor roads were only marked by a road number in the form Lxxxx where xxxx was a number. The main road wasn't busy but also wasn't the most direct route, eventually we gambled and took one of these roads which fortunately ended up on the road to Malin. I can understand the desire to keep motor traffic off the minor roads but some thought for cyclists would be appreciated. These L numbers aren't even marked on the official ordnance survey maps.
At the pretty village of Malin, a large group of cyclists were by the grassy centre on the final stage of a charity ride from Mizen Head to Malin Head but with vans taking their luggage, which we regard as cheating. The last 9 miles to Malin Head were wonderful with marvellous views of the rocky coast and hills. There's a small settlement called Malin Head with a harbour, bar, a few houses and two hostels. The one we'd first tried to book was full, the other was busy but had sufficient space for us. This was Sandrock, beautifully situated by the small harbour and we were greeted by hot drinks and biscuits, an unexpected luxury in a hostel. Unfortunately Sandrock only has dormitories so for the only time this holiday we had to share with others. After dinner we went for a late stroll, hoping to reach the Head itself which the sign indicated was only 2 km away. It was evident that the sign was lying but it was a lovely walk all the same, and the sunset was spectacular.