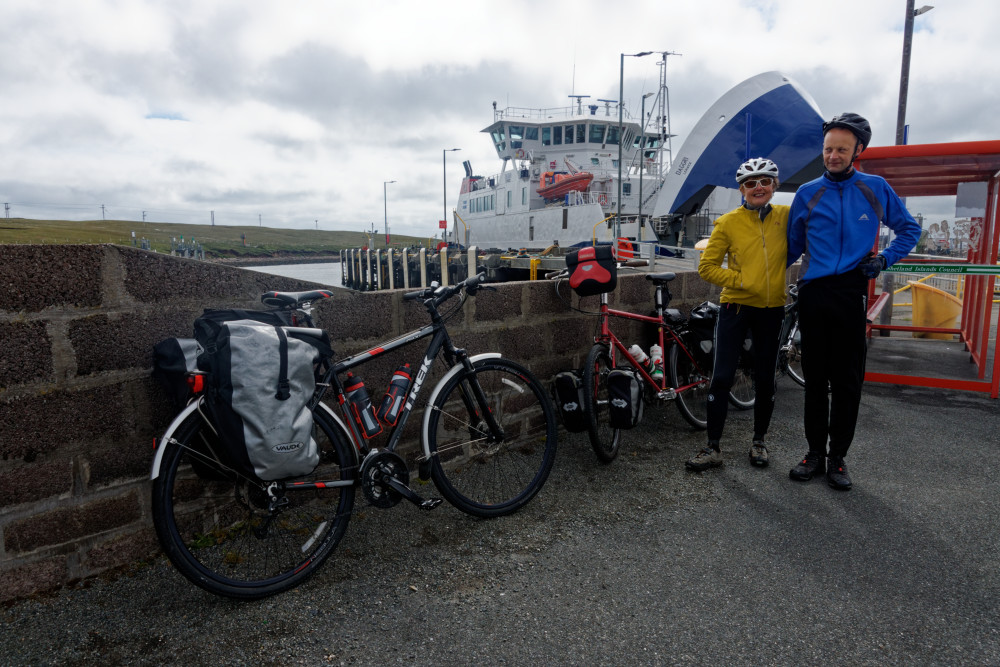 It was nice to have a double bed but it was the 4ft 6in old standard size and Christine was fidgety in bed so I got up at midnight to make up one of the bunk beds. Being so far north in midsummer, I was able to do this without switching on the light.
We were up at 07:00 and unusually efficient in having breakfast, making our sandwiches and packing so were able to catch the 08:40 ferry for Yell. Luckily the wind had swung round to NNE so it was generally behind us. We'd have been struggling to complete the ride to Lerwick if we'd had the strong southwesterly that accompanied our ride north. We were also lucky at the ferry crossing to the Shetland mainland, arriving ten minutes before the 10:45 departure. We'd waited a total of 15 minutes returning south, in contrast to two and a half hours on the outward ride.
At Voe we took the east coast route, a deserted road accompanied only by the sound of lapwing, curlew and oystercatcher. The main road was quite busy when we rejoined it so we took a detour via Scalloway on a single track road with gorgeous loch views to our left. The final climb to Lerwick was hard against the wind but the three weary cyclists pressed on to the hostel. After a cup of tea, we rode out to Tesco with empty panniers and bought food for our two nights here.
59 miles