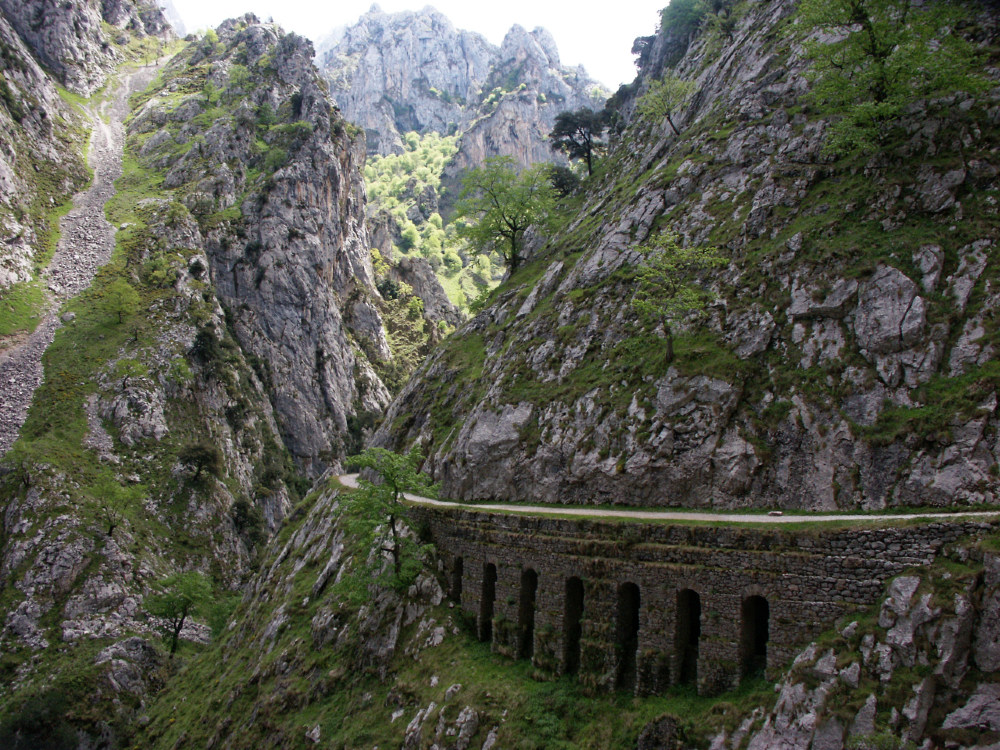 It was a perfect sunny start to the day, but rather chilly. We had nothing for breakfast apart from left-over bananas and nuts, so after scoffing them we sought out the supermercado, which was chaotic as building work was in progress. There wasn't much fresh produce but we found enough for dinner, including a bottle of wine, cheese for lunch, chocolate and nuts to keep us going through the day. We call in on the panaderia, open only until 14:00 and stocking only white bread and chocolate covered donuts. We bought a loaf, then cycled down the lovely quiet road to Cain, surrounded by mountains. We passed a mediaeval wolf trap and read the display panel showing how villagers chased the animals into a long wooden channel which ended in a deep pit.
There was no prior warning that the road was closed just outside Cain, and no indication how the village could be accessed. The foreman seemed irritated at our presence and pointed to a track above which led into Cain. We took our bikes clear of the road, secured them to a tree and walked. A small herd of goats followed us into the village. The farmer, alerted by their bells, rushed out to drive them back. He wasn't very pleased with us either. This part of Spain is not attuned to outsiders, you're expected to know when roads are closed, the opening hours of shops and bars, and how to stop goats following you. I expect all these would come naturally to a local.
It was very warm by now, and we stopped for a coffee as we passed through the small village. The gorge was amazing – very narrow and very deep. The track was blasted out of the rock, almost perpendicular in places, to provide access for a 1940s hydro-electric scheme. The canal runs more or less besides the track, which was quite popular even this early in the season. We turned back when the valley started to open out, then rode back to cook dinner.