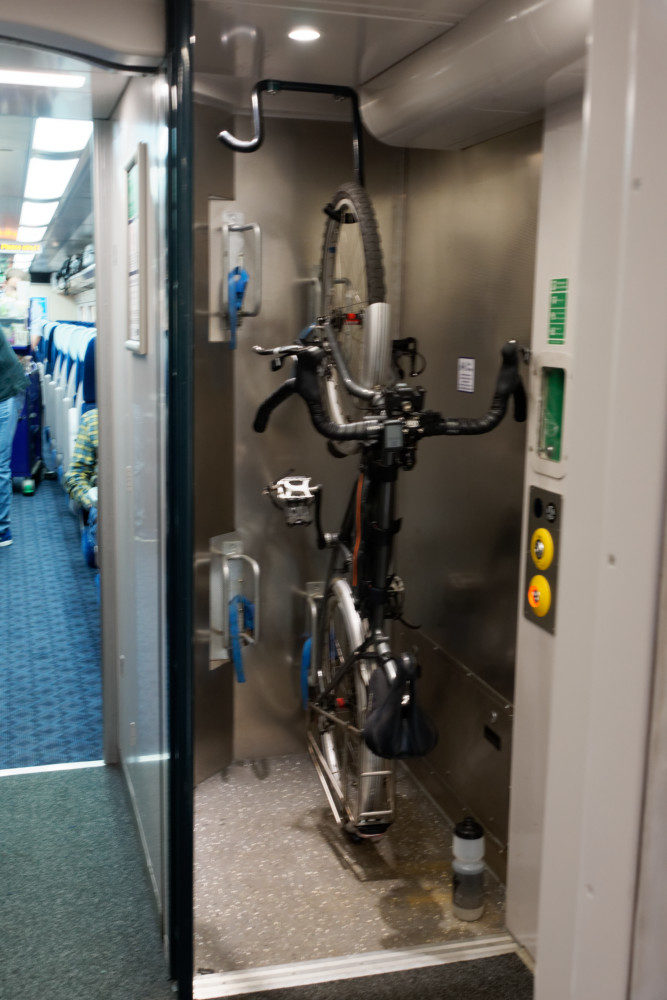 With forty miles to cover before our 13:45 train, we were up before six and away at 07:15, down the track and on to Alyth. We followed the sign for Kirriemuir but this took us towards the A926 so we had to divert back to join the fairly level and straight B952, a nice run with barely any motor traffic. We had trouble finding our preferred unclassified road out of Kirrie, birthplace of J.M. Barrie, and settled for the B957 as far as the pretty little village of Tannadice where we climbed up to our preferred route, an enjoyable ride into Brechin after which there's no viable alternative to the A935 for the last leg into Montrose.
Brechin is often described as a city because of its cathedral but that status has not been officially recognised in the modern era. The football team nevertheless styles itself as Brechin City. We looked at the extensive buildings of its station which closed to passengers in 1952 but continued for freight until 1981. Four miles of this former branch to Montrose have been re-opened as a heritage line by the Caledonian Railway, operating at weekends.
When planning this holiday I was surprised that the only train we couldn't book our three bikes on was from Montrose to Edinburgh. This was operated by an HST which have plenty of space for bikes in the power cars at the end. We'd booked two bikes on the 13:45 and one on the next, hoping we could get all three on the earlier one. We reached Montrose station way too early so ate our sandwiches in the waiting room out of the cold wind and then killed time on the internet. When it arrived we saw that the refurbishments applied to these sets incorporate a ridiculous cupboard by a door, into which we could fit only one bike. The train manager seemed relaxed about three bikes boarding so two of us stood with ours. Two other cyclists joined at the next stop, the train manager was scathing about the capacity reduction when he passed through. The pantomime of removing/refitting panniers and manipulating your bike onto the hook while other passengers are trying to board and alight adds unnecessary stress.
I read that Scotrail allow three additional bikes to travel in each power car if they're going the whole distance so I tried a journey with five people from Aberdeen to Edinburgh on several trains/dates, none would offer more than two spaces.
We checked into the Travelodge at Edinburgh and again ate at Hendersons in the evening. Next day we were up early for the 06:52 Virgin Pendolino which we left at Warrington Bank Quay. We had almost an hour to wait for our connection so sat in the sunshine with a Costa coffee, soon joined by a suited passenger who was also a cyclist and chatted about our adventures. Our connecting train was formed of two class 175 units rather than the expected locomotive hauled stock but there was room for our three bikes. We alighted at Bangor for the ride home.
40 miles in Scotland, 7 in Wales