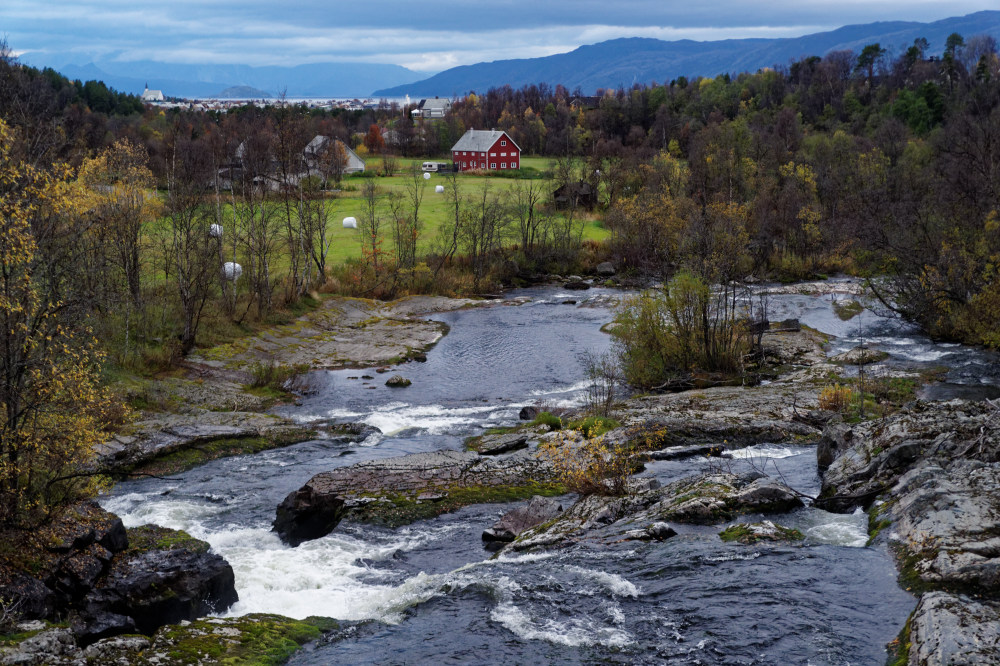 We spent a comfortable night at the almost deserted hostel, slept well and were the only ones up for breakfast at 08:00. As always in Norway, the bread was excellent and we could also choose from cereals, jam, cheeses and fruit. We rode the couple of kilometres to the bus stop for the 09:15 bus. Nobody else was waiting and we were rather anxious when 09:30 came but the bus didn't. It rolled up twenty minutes late but still made it to the interchange at Olderfjord on time. Travelling down the east side showed us what we'd missed, principally a 3 km tunnel and the 7 km undersea tunnel, reminding us what a good decision we'd made in choosing the west side.
At Olderfjord we had to change to another bus. The driver asked to see our tickets but the first driver hadn't charged us for the bikes so we had to fork out another 45 kroner each. Being an express limited service, we had to stay on past Solvang Camping, the first stop after it being the airport, and ride the 6 km back. It was such a good campsite and on the right side of town for the airport that we took a chance on someone being there again and able to book us in. There was, and we settled into cabin 7 again.
After lunching on the verandah we went for a ride along the main road and then off along a minor one following the Tevrelva river, returning down a muddy track along the opposite bank. During the night, the sky cleared to reveal some aurora activity.
Distance cycled: 32 km