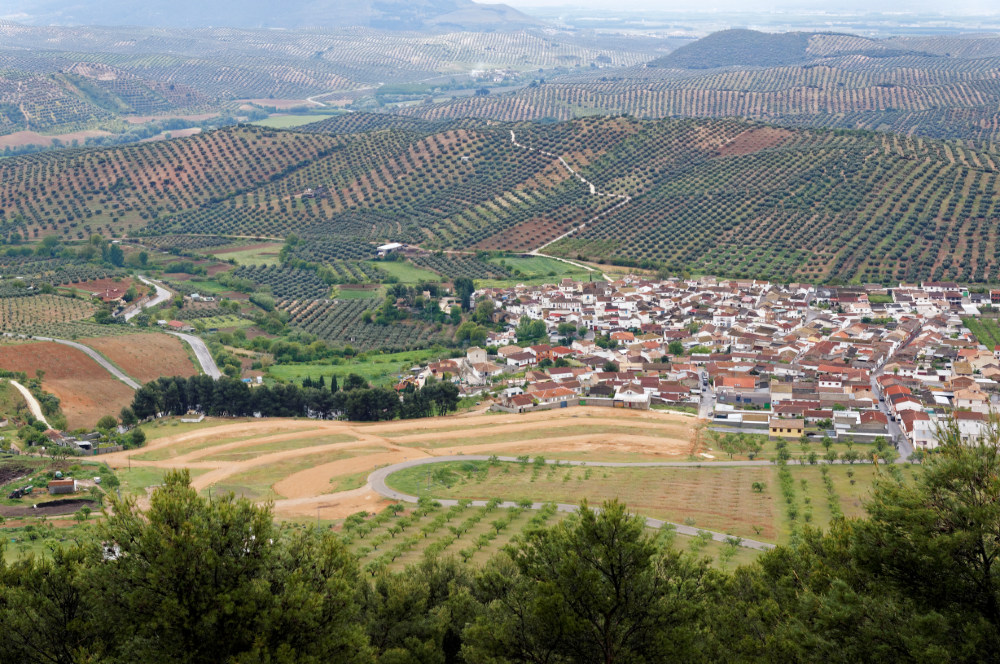 Clouds had formed during the night, we left the city after an early breakfast and soon found our route out. We quickly clocked up the kilometres along the flat but uninteresting N432 road , then turned off at Pinos Puente to seek a more rewarding experience. It was a pleasant ride up the Rio Frailes and we met a number of Sunday road cyclists along the way. At Tiena we branched off for the long climb up to the small town of Moclin but hadn't gone far out of town when a fierce hailstorm hit us. We sheltered until it eased then continued up to Moclin in the cold mist, with lovely views of hills and olive groves on the way.
We dropped down back onto the N432 and it was soon clear that the gloomy weather forecast was an understatement, heavy rain turning to sleet in the headwind. We were very cold and our waterproofs were suffering some rain penetration so we called into a roadside cafe for a hot lunch, remaining for a long time in a fruitless effort to dry out and warm up. We battled on to Alcala la Real and booked into the Torrepalma Hotel, then contacted the apartment in Priego de Cordoba to ask if we could stay the following night instead. This would give us one short and one long day to reach Cordoba where we'd already booked accommodation but we wanted to have a good look round Priego.
The Torrepalma was very well appointed but there was no heating in our room, and being a Sunday, the restaurant was closed. We didn't relish getting wet again in search of food so settled for two cakes each in the cafe, watching the sleet outside turn to snow.