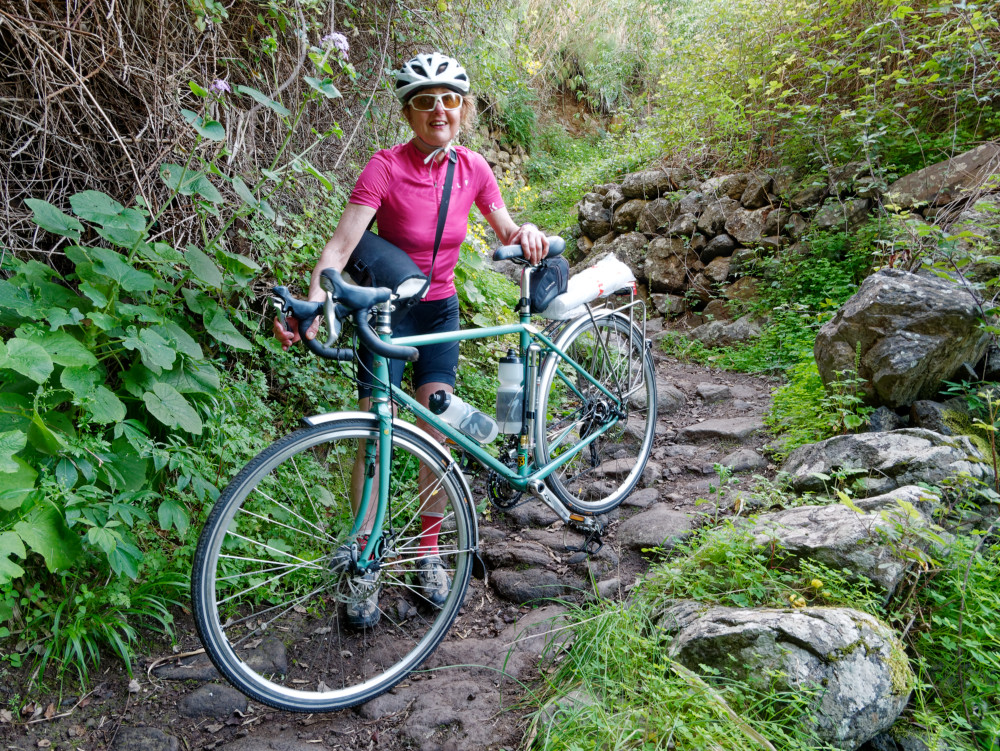 We set off at 08:00, reaching Cruz Grande an hour later and Tejeda at 11:00, pleased with our progress over the hills. It all started to unravel after Artenara. The road system is complex with many minor roads that end suddenly because of the steep terrain and no road that is signed for Agaete despite it being the largest town in the area. We'd plotted a route using the Komoot app but the road from here didn't exist on the ground, we spent a long time looking for it before deciding to try another alternative.
We took the road down to Las Hoyas, steeply down to ride round the two reservoirs. Luckily there was a bar as I was running low on water. We rode past a steep concrete road on our left and carried on climbing for a long way before stopping to check the map. There were two alternatives, to carry on and round on a long detour to the north of Agaete and then down the coast or to return and take the concrete road which Komoot recommended. We opted for the latter, which was a mistake. The road ended at a refugio in Hornillo with a cafe, after which was a steep rocky track, the sign indicating 1.5 km to the road. Certainly not cycleable.

We ordered smoothies and spoke to two German women who'd walked up with a baby. They advised against taking our bikes down but we couldn't face the long climb up so we pressed on. We had to remove our panniers, carry them for a while then leave them and return for the bikes, repeated for two hours. Towards the end, the German women and a German couple caught us up and carried the panniers for us to the parking area at the start of the road into Agaete. They also gave us bananas and biscuits, lovely people.
The light was fading and we still had 10 km to go, steeply uphill for a short way then down to the coast. Agaete was bigger than we'd expected but we eventually found the hotel. We were very tired and being late on a Saturday night we bought some fruit from the nearby Spar rather than trying our luck at a restaurant. The hotel had a basement with crockery, a sink and even a cooker for customer use.