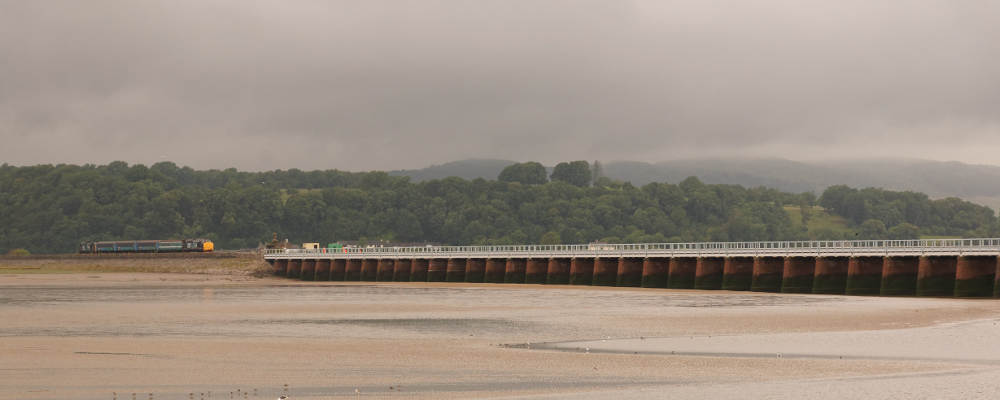 This was our day off before returning home. Rowan and I wanted a ride along the scenic Cumbrian Coast line to Carlisle on one of the locomotive hauled trains that have been drafted in to cope with a shortage of diesel units while Christine wanted to visit the RSPB reserve at Leighton Moss.

The forecast was for a wet morning but luckily the rain held off for our walk to the station where I photographed the 08:51 to Preston approaching the viaduct, this being the service we would catch tomorrow. We caught the next train northwards, to Barrow, where the heavy hain had arrived so we headed for the Costa coffee until it was time for the 11:38 Barrow to Carlisle to take us up the coast. There was a declassified first class compartment coach in the set so we were able to travel in style. The train returned a few minutes after reaching its destination so we didn't alight. After photographs at Barrow, where the rain had ceased, we called into a pub for a welcome pint of Lancaster Red ale and caught the next train back to Arnside.

Christine went for a circular walk to Silverdale, starting off along the coast as the tide came in, watching the channels fill and the birds moving around for the best food source. She had to scramble up rocks to escape the tide and continue along the cliff. She was rather wet by now so headed for a craft centre with a café where she'd dried out accompanied by mint tea and lemon tart. She ventured out into the rain again to walk around Jack Scout headland and round to Jenny Brown's Point overlooking birds on the mudflats. It was still raining when she reached Leighton Moss and again visited the café but then it ceased for her walk around the reserve.