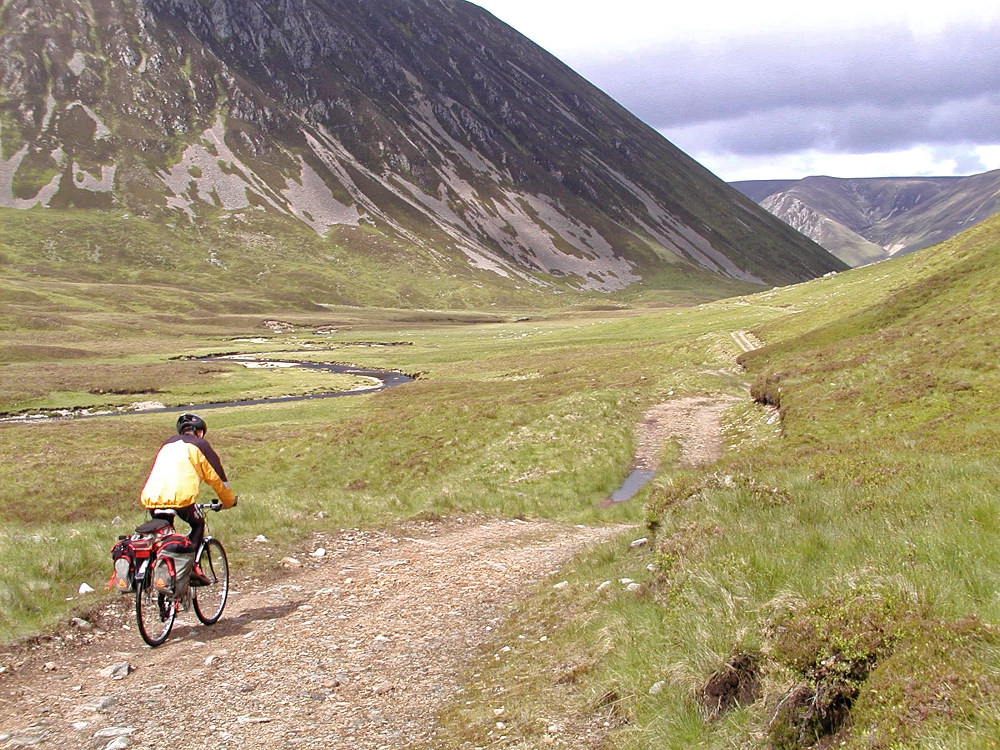 The best day of the holiday! We awoke to glorious sunshine with cloud over the mountains, blown in to displace the blue sky while we breakfasted. We'd laughed at yesterday's forecast that it would be a cooler day on the basis that late June couldn't get any chillier. Well it did, the wind now blasting North Pole air at us as we attempted to move our bikes and luggage in that direction. We turned off the B847 onto a minor road at Trinafour and climbed up the hill, low dark clouds scudding ominously over the mountains towards us. The downpour never came, just short spells of spray and light rain as the black cloud edges passed us by.
At the junction with the A9, by Dalnacarnoch Lodge and the snow gates, the official Sustrans route runs parallel with the trunk road and railway over the Drumochter Pass. We chose the long off-road alternative of the Gaick Pass, first along a rough but cycleable track, stopping for lunch at 13:00 with minimal shelter afforded by a bridge from the northerly gale which impeded our progress all day. Soon we had to strike off along a narrow path, boggy at first, after fording a stream. The scenery was awesome as we pushed our bikes along the narrow path cut into the hillside above Loch an Duin, heather brushing our panniers as we passed between the peaks of An Dun and Creag an Loch.
A more serious ford was the obstacle we had to cross before gaining the track beyond, a river rather than a stream, though it only reached as far as our knees, but quite fast flowing. We removed our footwear, rolled up our trousers and carried our panniers across before returning for our bikes. The water was icy, the rocks slippery so I was relieved to complete the job without sliding into the river. All I had to do now was to put my shoes and socks back on, which were…. on the opposite shore where I'd left them! A final return trip later and I was ready to go. The clouds had cleared by now so we could enjoy the stunning scenery in full colour, only the wind stopping it being a perfect day's cycling.
After Loch Bhrodainn we had to ford a second river, which surprised us as only one was marked on our map, and this one was just as wide and deep but faster flowing. This time I remembered my footwear so I had only three crossings to endure, my feet having still not been restored to normal temperature after the first crossing. The track was comfortable for cycling now as we passed Loch an t-Seillich, the only sounds being birdsong and water, miles away from people and roads. We struck tarmac earlier than expected, enjoying a very easy descent for the last few miles, the only traffic being a farm lad on a quad bike before we reached the B970 at Tromie Bridge. Here we turned right for the short run to our B&B at Insh Watersports Centre.
We dumped our bags and showered in our room – the penthouse! – actually a disappointment as we'd booked a separate room for Rowan. Then dinner at the peaceful restaurant overlooking Loch Insh, leek and tarragon crêpes followed by a very rich chocolate cake, a great end to an almost perfect day.
Day 12 – Insh to Glen More (14 miles)