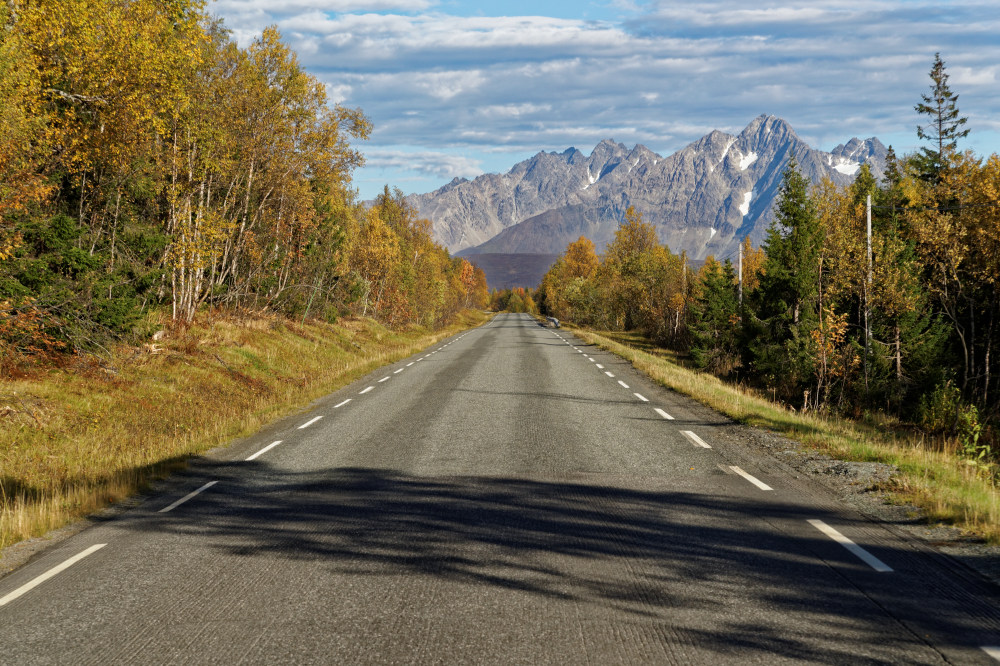 The route out of the city looked straightforward on the map but we encountered our usual navigational difficulty when negotiating our escape. The bridge from Tromsøya island to the mainland was steep, narrow and very busy so we pushed our bikes along the pedestrian path. On the other side. the E8 road was also busy and we made use of a parallel residential road which avoided most of it, with Balsfjord below us on the right and then the narrower Ramfjord. A couple of roadies were about, the first we'd seen in Norway where utility cyclists dominate, and a cross-country skier was practicing along the road on roller skates.
We found a picnic table outside a school, which being Saturday was closed, lunched and checked the map. By following a parallel road, we'd missed the turning for route 91 but luckily by only about ten metres. This road ends at Breivikeidet for the ferry to Svensby. Through motor traffic can avoid two ferries by taking the longer but faster E8/E6 alternative so we had this peaceful road almost to ourselves, enjoying the sunshine and autumn colours. There was no wind, easy gradients and again very warm, reaching 21°C. We arrived in plenty of time for the 15:55 ferry, a few cars were waiting but the ferry didn't arrive. Checking the timetable, we realised that it doesn't run on Saturdays in September. It also dawned that tomorrow would be Sunday when almost everything closes, we'd neglected to keep track of the days of the week with very little food for the next day and the first shop on Monday would be after 60km.
After disembarking from the 16:50 ferry, we camped at Svensby Turist. Later a German cyclist arrived, on his way back from the North Cape, and advised us that the cycling was more challenging further north. He recommended waiting for good weather before riding to the Cape as it could be wild up there with thick fog and gales. We'd been very lucky with the weather so far.
Distance cycled: 54 km