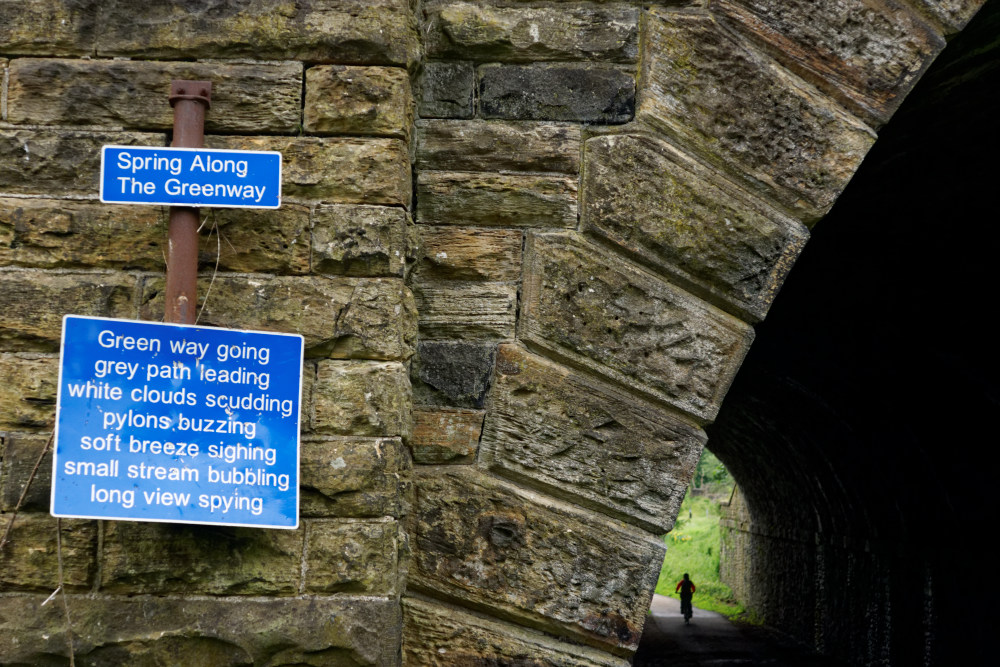 The wet start was expected, the forecast warning of heavy rain all day but it stopped soon after we'd left Hebden Bridge and remained dry under dark clouds. The overnight downpour had recreated the puddles that had evaporated yesterday so our bikes were soon as muddy as when we'd arrived on Thursday.
We passed through Mytholmroyd, birthplace of Sylvia Plath's husband, former Poet Laureate Ted Hughes, where we watched a narrowboat negotiate a lock. One of the crew told us the full end to end passage takes a week because of the time required to pass through 91 locks but they'd only hired the vessel for the weekend. The scenery became more rural until Sowerby Bridge where we stopped for lunch. Here the Rochdale Canal morphed into the Calder and Hebble Navigation, which we followed to Brighouse.
Route finding was tricky after leaving the canal, with inadequate signage so we had to keep stopping to check directions. After a short section of the Spen Valley Greenway we crossed under the motorway to check in at the Campanile Hotel on the south side of Bradford. It's in the Euroway industrial estate so there's nothing of interest in the vicinity, but it was convenient and only £70 for a triple room including breakfast. Being a weekend, the other guests comprised coach parties on an overnight stop. We ate in the hotel restaurant.