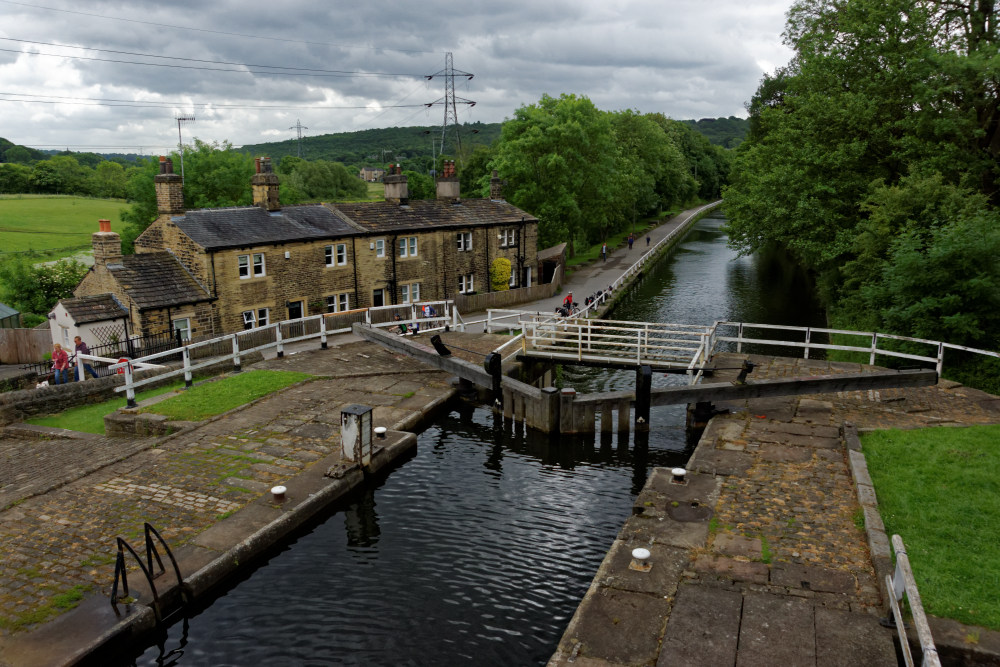 Sunday morning was the ideal time to pick our way north through Bradford city centre and up to Shipley where we joined the Leeds and Liverpool canal. There were few signs, and at one point we found we'd doubled back on ourselves and were riding back into the city centre. The Victorian buildings in the centre looked their best in the sunshine with few people and little traffic. Eventually, after continually stopping to check the map, we were on the towpath which by now was busy with walkers, runners and cyclists. The towpath surface was much smoother so we made better progress despite this. We called into a canalside tearoom for tea and scones with jam and clotted cream.
We left the canal near Leeds railway station and again the signs were sparse but we found the route through the Temple Newsam estate, owned by Leeds City Council. The house is a grade 1 listed building. Although I grew up only thirty miles away, this was my first visit but we had no time to spare so passed straight through. We were lost again after leaving the park and were concerned that we wouldn't reach York in time for our evening's social engagements. We spotted a cycle route sign for Garforth so rode to the station there, arriving five minutes before the next train. This was lucky since the service is hourly on Sunday.
We cycled along the riverside path to York youth hostel, where we'd booked a private room, showered, changed and had just enough time to walk back to meet Christine's cousin and her husband who'd recently moved to the city. Having eaten with them at El Piano, we moved on to the Yorshire Terrier pub in Stonegate to see my school friend Mick and his wife Lesley for drinks and chat.