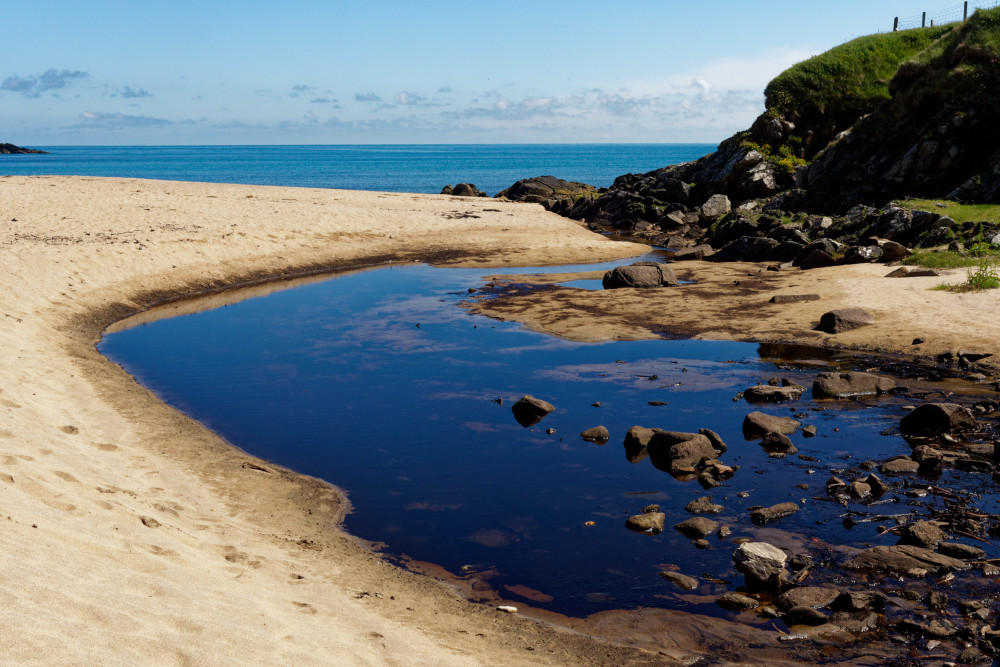 A lovely day, sunny with light winds and consequently not so cold. The hostel noticeboard confirmed the warden's advice that the "Final Checkout" shop at Baltasound was open until 18:00, we passed it at 10:45 but it didn't open until 11:00 and we didn't want to wait and then have to carry our shopping all day. We stopped by a recreation of a Viking longboat and longhouse and met a couple who had cycled 700 miles from Canterbury to Aberdeen for the Shetland ferry. They were camping and had spent the night in the longhouse at the suggestion of the locals. They'd just cycled to the end of the northernmost road in Britain and had turned round to ride back to Canterbury.
We rode to the end of the road too, with a steep climb on the way. It's also the northern end of National Cycle Route 1, commemorated by a sign beyond which is a beautiful pristine beach. We stopped for lunch at Victoria's Vintage Tearoom and sunbathed outside, sheltered from the breeze. Then we continued to Hermaness for the great skuas and the gannet colonies nesting on the cliffs.
A quick walk back to the bikes and a fast ride got us to the shop at 17:40, only to discover that the information at the hostel was out of date and the shop now closed at 17:00 on Sunday. We hadn't verified it with google, which showed it correctly. We had just enough food for dinner but not much for breakfast and will need to shop tomorrow.
30 miles