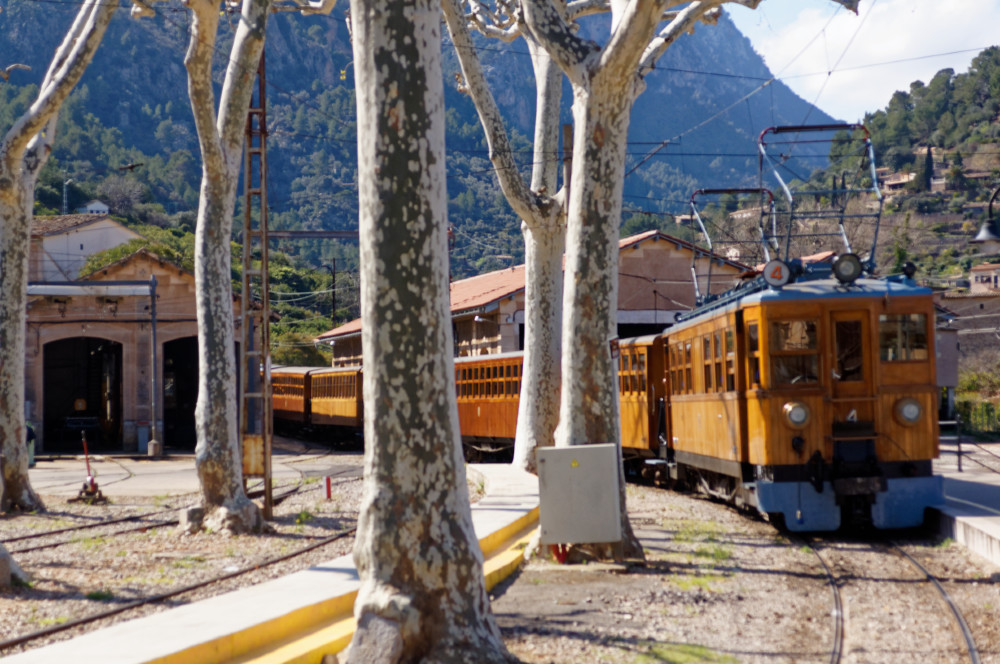 We were totally in tourist mode today, taking the 10:00 vintage electric train to Soller. It ran through the streets of Palma then along a level section and then steeply up into the mountains after Bunyola, passing through thirteen tunnels. There was a photo stop where we could look down on Soller before the long descent into the town, where it was market day. The line was built to transport citrus fruit from the Sóller valley to the capital but now serves only as a passenger line, mainly for tourists.
At Soller we transferred to the tram which runs down to the port. Construction of the 4868 metre tram line began after the inauguration of the Palma to Sóller railway line, the most notable feature being the iron bridge over the Torrent Major. The line was designed for passengers but was also used to transport merchandise down to the port. Fresh fish was carried from the Port to Sóller in a small refrigerated car and coal was taken to the former military submarine base in the Port of Sóller and the gas factory on trailers. Mines and torpedoes were also transported from the Caubet magazine. The three motor trams, numbered 1 to 3 and their trailers 5 and 6 are the originals, dating from 1912 and the open trailers were acquired from Palma trams in 1954 when the Palma system was wound down in favour of buses.  The tramway also has five motor trams from Lisbon, numbered 20 to 24 and re-gauged to fit the 914 mm track gauge.
We ate our sandwiches at the port and walked past the marina to a hermitage for a great view. We caught the 17:00 train back from Soller for dinner at the vegan restaurant. The food was very good and elegantly presented.