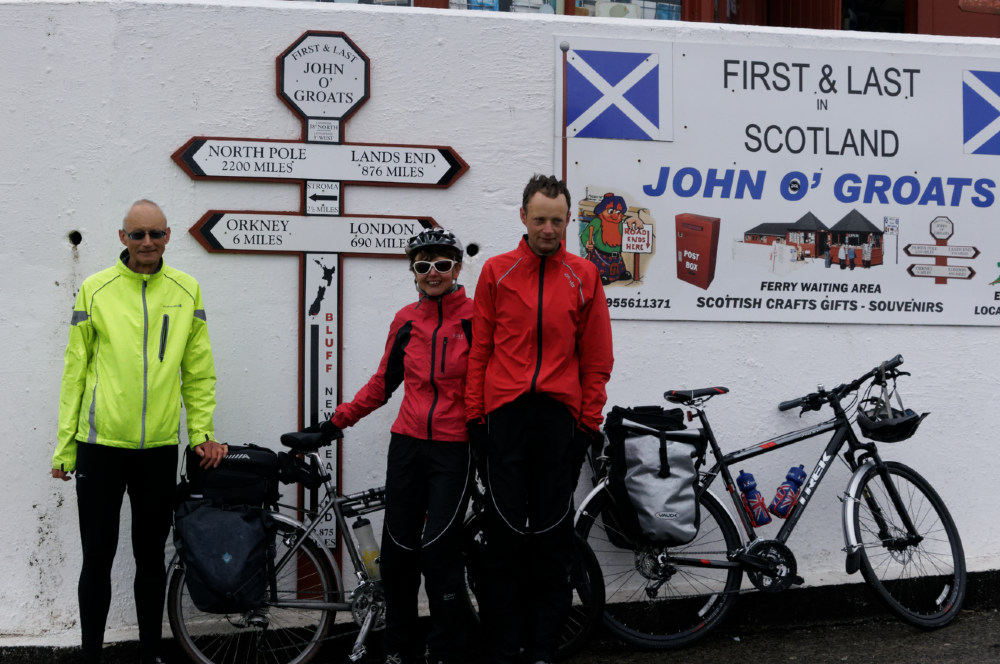 After breakfast we rode the six miles through the drizzle to John O'Groats, pausing to photograph the closed hostel at Canisbay with its National Cycle Route sign still standing in the overgrown garden. There's surprisingly little accommodation in the area for such a popular destination. The famous sign is privately owned and you have to pay to have your home town slotted into the post and your photograph taken. This wasn't an option for the passengers waiting for the ferry as the man didn't arrive until the ferry was docking.
It being too cold to venture on deck, we watched the seabirds skimming the water from the saloon. After landing at Burwick, we rode into a cold relentless headwind, occasional rain enhancing the discomfort. The Churchill barriers were built during the second world war as a temporary measure to block access to Scapa Flow to enemy warships. They comprised old ships sunk in the water, these were replaced by permanent causeways built by prisoners of war to connect the southern islands but one of the scuttled vessels can still be seen. The POWs were allowed to convert a nissan hut into a chapel and this Italian chapel is still maintained by the islanders.
Our plan had been to stay at the Kirkwall hostel but the whole of the small capital was booked up for the St Magnus festival, so we'd had to book eight miles further on, at Houton. At the time this hadn't seemed far, but it was an exhausting eight miles against the wind and we were very tired by the time we arrived.