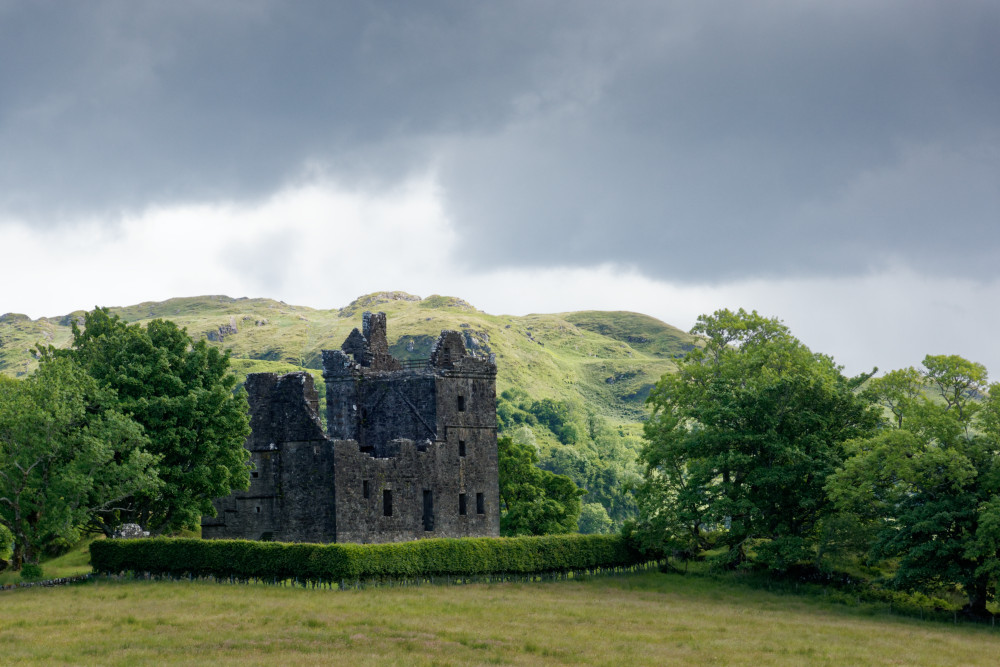 We left Kilmartin at 09:00 along the route 78 alternative to the main road,which turned out to be a mistake. We missed a turning because of a broken sign so continued on up a steep rough Forestry Commission road. We had to turn back to find the right path which took us past Carnasserie castle and back to the main road. 10:30 saw us only a mile from our starting point, and it wasn't even a busy road. We soon turned off it onto a lovely B road, gently undulating with gradual curves at first but the surface soon deteriorated and the ride became much harder with lots of sharp hills and descents.
While waiting for Christine and Rowan to arrive at the Wild Rowan Cafe at Dalavich I spoke to a group of Scottish cyclists who were about to continue their ride. The lunch options were unattractive so we settled for coffee and cake, sadly the carrot cake was unavailable this time, and bought baguettes and cammbert for lunch. We ate at picnic benches a couple of miles further on.
A little later we saw an ambulance stopped by the group from the cafe. One had hit a pothole as a car's approach gave him no room to avoid it, and a paramedic was attending him. It was quite a while before the ambulance overtook us, returning with its lights flashing.
At the SYHA hostel we upgraded to a private room, walked out to Tesco for food, cooked and ate late.
Distance cycled : 44 miles