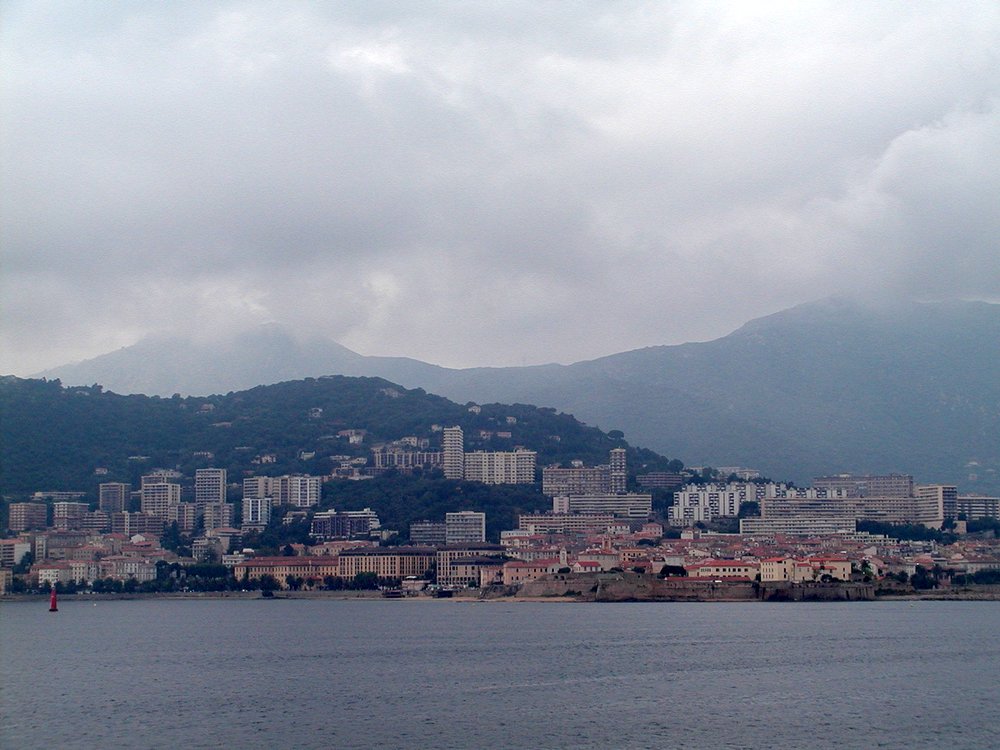 I dropped off to sleep straight away but woke suddenly when two motorcyclists roared past our tent. I couldn't get back to sleep and rose tired at 07:00. As yesterday, I rode off alone to the boulangerie for breakfast provisions (and coffee) then when we'd eaten we packed up the tent for the last time and made for the city, having another look round the centre to pass the time before the lunchtime ferry departure.
I was pleased we'd had this extra spell in Ajaccio because our brief visit earlier in the holiday was too short to gain much of an impression, and now we'd had time to appreciate its beaches and harbour I'd taken quite a liking to it. The city itself isn't stunning like Bonifacio but the setting is perfect and it's only a few hours by ferry to the Nice, our next stop.
We booked our tickets – on the outward journey we didn't know that under 25s can get a special rate but now we did so Rowan's ticket was only €19 rather than €34, though port taxes pushed the total for the three of us to €129. Bikes are only €3 each with Corsica Ferries – the rival operator SNCM charge €10 for a bike, passenger fares being identical. It was a warm humid day and it started to rain as we waited to board. The boat was much smaller than the vessel that had brought us to Corsica with little to entertain passengers, just two cafeterias, one on each level, and a tiny shop. It was faster though, taking much the same time as the shorter crossing from Nice to Bastia.
On arrival we rode along the Promenade des Anglais, cyclists, rollerbladers and pedestrians mingling with a surprising absence of collisions, and back to Hotel Trocadero. After showering we walked into Vieux Nice for a beautiful Mezze Vegétarian, consisting of ten dishes, at Byblos. Nice must be my favourite city, but I didn't expect a French restaurant would be able to produce such a lovely meal. We sat outside in the warm air eating, drinking wine and observing. This time our room was at the front of the hotel and was again noisy, firstly with people and then with the water spraying so again I didn't sleep too well but now I know that men come out at night to clean the streets and keep Nice nice.
Next day, we collected our bike bags which the hotel had kept safely for us and left at 07:40 to cycle along the Promenade des Anglais towards the airport, using the pavement when the shared use path ended. The pavement was uncomfortably narrow for my wide load as I was also carrying all three bulky bike bags strapped to my pannier rack. We finished up at terminal 1 and took quite a while working out how to get to terminal 2. We got there two hours before the flight time but didn't have much time in hand over the 40 minute check in time after preparing the bikes. We'd been hoping we'd have time for a drink before boarding but had to wait for the trolley on the plane.
The flight was uneventful and soon we were in drizzly Liverpool and riding back to Hunts Cross station. This being school half-term week, the trains were much busier and the final one was very uncomfortable – standing room only from Chester to Bangor but somehow we contrived to squeeze our bikes on. Then we spilled out onto the platform and rode home through the warm early evening sunshine.