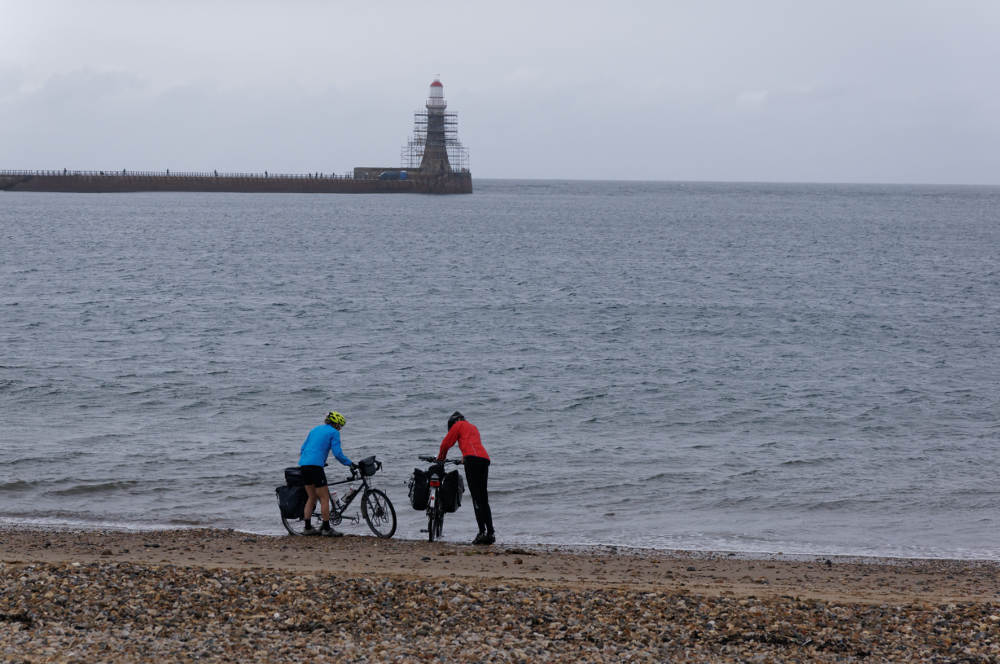 After a comfortable and quiet night's sleep, a great breakfast with home made granola set us up for our ride to Durham. The ride down the coast had its moments but much of it was along cycle tracks next to busy roads through anonymous down at heel residential and industrial areas but the final section past Roker pier and lighthouse was enjoyable. Here we began the Sustrans Walney to Wear route. The official route was 30 miles to Durham but we wanted to call in on Beamish museum which involved a section of the C2C route then dropping down to the city. The way out of Sunderland along the river Wear held our interest with industrial remains and we passed the National Glass Centre where we were very impressed to see a "Bike Dock" equipped with tools and a track pump for the use of passing cyclists. We didn't need it but used their cafe for a welcome coffee and cake, Christine opting for tea and soup instead.

A long tedious section designed to avoid the busy roads eventually took us to a railway track which took us almost to Beamish, arriving at 14:45 in the drizzle, just in time to gain admission before the 15:00 curfew. This gave us two hours to look round which is nowhere near enough time but it's so far from home that we felt impelled to avail ourselves of the opportunity. I was excited to see former Grimsby and Immingham tram 26 in its green British Railways livery arrive to take us to the old town, I'd visited in September but Christine had never been and Rowan hadn't been since he was a child. We visited all the old shops then took the tram further round the circle for a ride on the waggonway where we were dismayed to see a grumpy bloke closing the gate despite it being only 16:20 and the sign saying 16:30 was the closing time. A refreshing contrast in attitude was displayed by a very enthusiastic and knowledgeable young woman dressed as a maid at Pockley Old Hall who made our visit special, explaining the lifestyle of the people who lived in the hall and the type of food they ate.

We left at closing time, 17:00, the sky ominously dark and the inevitable rain soon followed, becoming very heavy as we progressed along the railway track, leaving to take what looked like a minor road but was actually very busy. This took us to the home of Christine's cousin at Langley Park where we could finally shower and get dry and warm again, the temperature having plummeted. We enjoyed a sociable evening, having not seen Christopher and Carol for many years and they showed us some old cine film that Christopher had converted to .mp4 for viewing on computer.