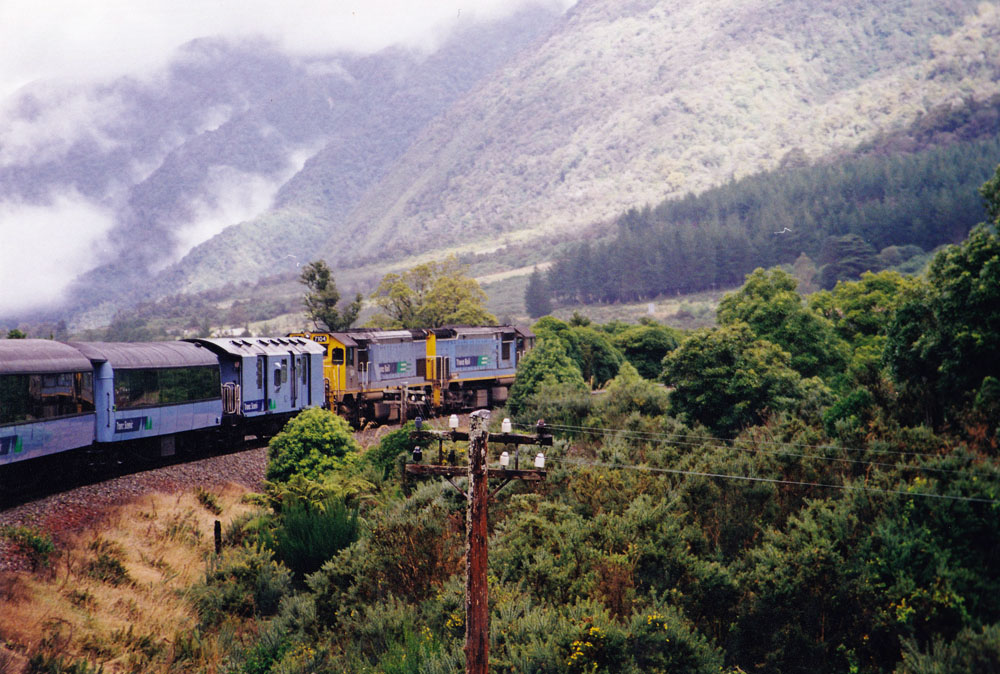 Our last full day started grey, misty and wet so after breakfast we had to don waterproofs for our first ride in the rain. Luckily Greymouth was only 10km away but we had a lot of time to kill before our train left and it was too wet to enjoy sightseeing. So we bought fruit in the supermarket, dropped into a café for coffee and carrot cake, checked in for the train, then returned to the same café for an early lunch!
There's only one passenger train per day, being an out and back trip from Christchurch and aimed primarily at tourists. The TranzAlpine is rated one of the top five most scenic rail journeys in the world but the low mist was looking like it would blot out the view for us. It's operated like a plane trip – only light hand luggage is allowed, bulkier items being checked in and carried in the baggage car. We left our bikes by the conveyor belt and assumed they'd be loaded on for us.
We watched the train arrive bang on time at 13:30 before proceeding to the yard for the coaches to be cleaned and the locomotives to run round for the return. It arrive back a little late, and we checked our bikes were to be loaded on – it's lucky we did as it seems you have to hand the bikes over to the loading staff!
There was a further delay as a van had flipped over onto the track a few kilometres ahead and we finally left 25 minutes late, slowly at first through the mist and rain. As we climbed up and approached Arthurs Pass National Park the cloud and mist vanished to be replaced by blue sky, warm sunshine and wonderful views of massive peaks, broad dry river beds, rushing creeks and waterfalls. We moved down to the open observation car for an exhilarating rattly windy rollercoaster of a middle section. We rode over viaducts and bridges and through a succession of tunnels, braving the diesel fumes for the sake of the views and the excitement of the bouncy ride battered by the wind. This certainly lived up to its top five reputation.
After this, the last hour along the totally flat Canterbury Plain was very dull before we arrived on time at Christchurch station, strangely relocated 4km outside the centre, where passengers waited to reclaim their luggage. We cycled back to the Youth Hostel and showered before another great meal at the Mainstreet Café, excellent value at $5 for two big helpings and two beers.