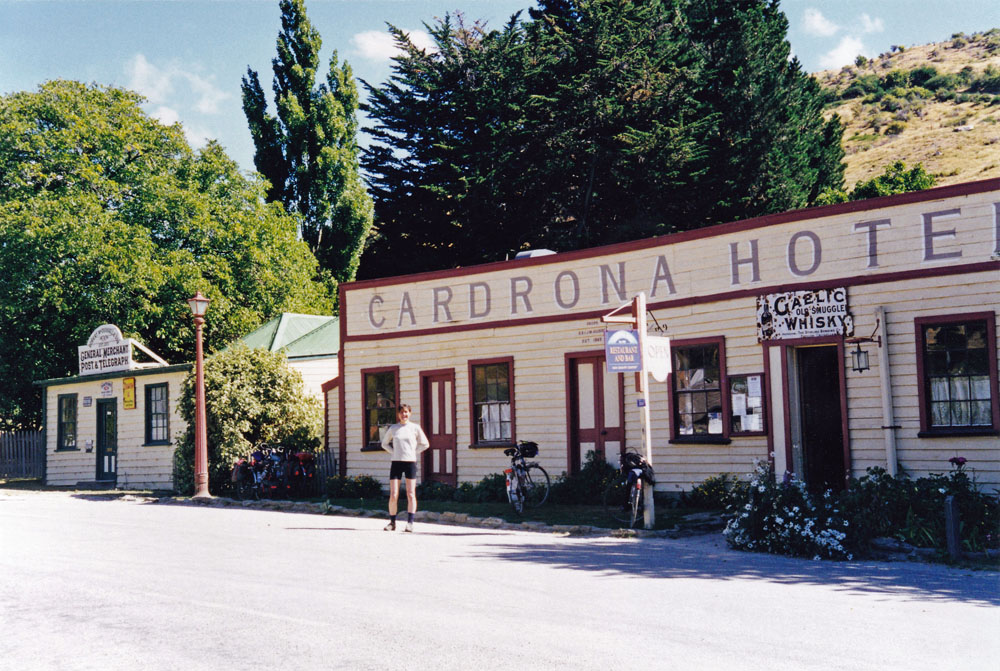 If you book a bus ride in New Zealand, the driver will pick you up or drop you off at your holiday accommodation so it's as good as a taxi. Well, almost as good, the driver won't wait for you to finish brushing your teeth, you have to be outside waiting! At 09:30 the Topline Tours InterCity coach arrived to take us to Queenstown so we loaded our bikes and boarded.
We stopped at Kingston where our bus met a passenger off the Kingston Flyer, a steam tourist train. The mountain countryside was wonderful from here along Lake Wakatipu and we started thinking maybe we should have just taken the bus as far as Kingston and overnighted at the old gold mining town of Arrowtown before cycling along the Cardrona Valley the following day.
At Queenstown Christine rushed off for muffins and fruit juice cocktails (wonderful!) while I loaded the bikes and then we were climbing the long steep road to Crown Peak where we alighted. We'd ascended from 300m to 1080m and felt really bad overtaking all the other cyclists struggling up in the heat! The driver assured us we were by no means the first to cheat like this.
The tar seal had ended near the summit and we were onto gravel. Work was underway to seal this road, expected to be completed by March 2002. The descent was easy though bumpy until Cardrona where we met a party of minibus-assisted Dutch cyclists before popping into the Cardrona Hotel, a miraculous survivor of the 1860s gold rush. Apart from a short section of gravel the road was sealed as far as Wanaka and the cycling was easy.
We rented a cabin at the Wanaka Motor Park and met Jakob and Ane Kathrine again – they'd come via Cromwell to avoid the gravel and our bus cheat had enabled us to catch up with them. To complete an easy day we dined out at the White House Restaurant.
You'll be pleased to learn that this was the last bus ride of our holiday!