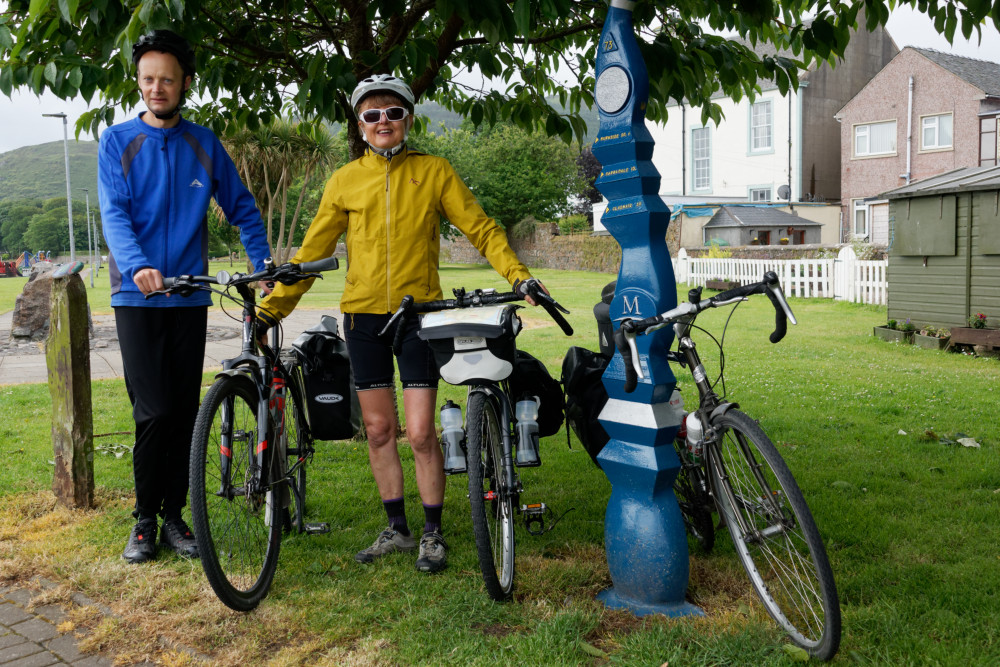 The two solo men were away before we rose, and after a leisurely breakfast we set off for our ride down the hilly east coast road to Southend at the bottom of the Mull of Kintyre. We saw only a couple of cars and stopped at the tea room, situated in Teapot Lane. It was a delightfully quirky old fashioned place with a vast display of old teapots and other relics – radios, scales etc – and the songs of Petula Clark and Doris Day entertaining us. More importantly, the chocolate cake and coffee were of the required quality.
It was almost lunch time when we left so we soon stopped again to eat on a picnic bench overlooking the sea. At the far side of the village was an abandoned hotel set back from the road on a hillside. A passer by told us it was a thriving business in the 1970s but Glaswegians were seduced away by cheap package holidays in the sun.
From there it was a quick run back to Campbeltown Backpackers along the main road, arriving at 14:10. While we were having a cup of tea, one of the custodians of the community run hostel brought us a complimentary tray of cakes, it really is a top quality place to stay. After that, we looked round the town and visited the Linda McCartney memorial garden. The weather turned drizzly so we returned. Soon after, a German cyclist arrived, 13 months into a European tour, mostly camping. Tomorrow he'll be sailing to Ballycastle in Northern Ireland, a small operator provides the service but it's expensive at £50.
Distance cycled : 27 miles