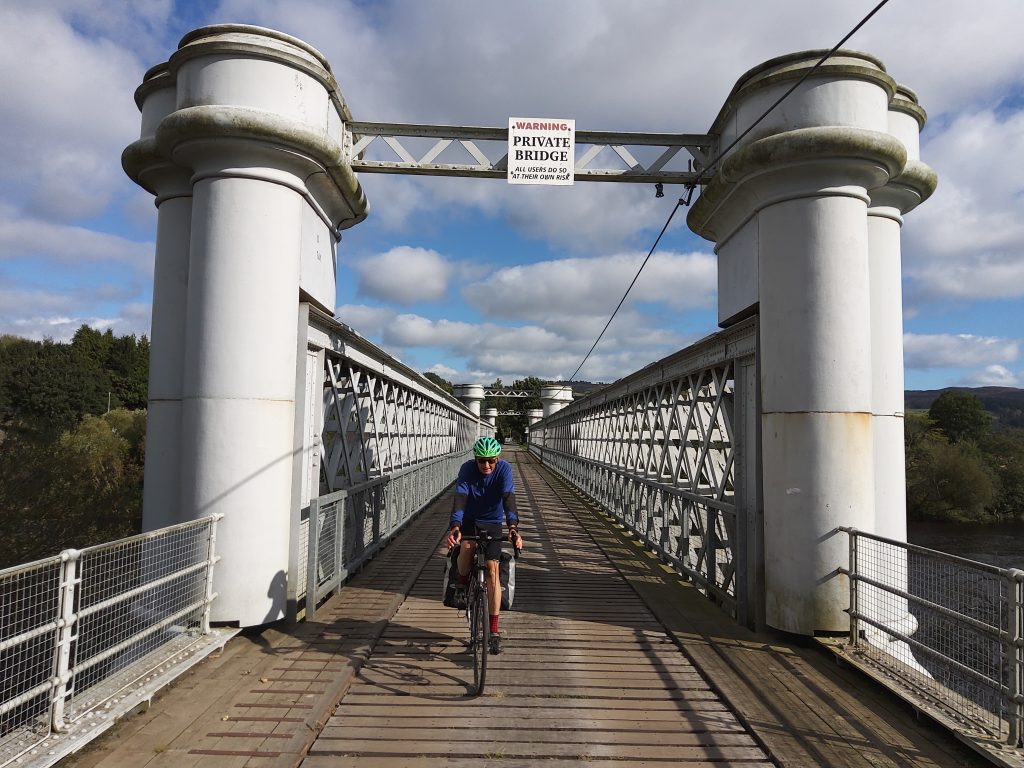 Our exit from Perth was much nicer than our entry, along a broad tarmac path beside the river Tay. Chilly initially, then it warmed a little before the northwesterly wind strengthened to make it cooler and harder. Gentle pastoral Perthshire countryside with hay bales in the fields waiting to be collected.
It was a great ride with little traffic on the roads and gentle gradients. After Dunkeld, busy with tourists, we turned off along an estate road and found a picnic bench between a large old hotel and the river. Here we were in the sunshine and sheltered from the wind, we appreciated the warmth.
On through Pitlochry with its caravan parks, big hotels and a main street of cafes and gift shops. Blair Athol lay eight miles further on, I was pleased to see a EU flag among those flying above the entrance. As expected, it's an old fashioned hotel with tartan carpets, bedspreads and curtains. Food was better than we expected and the ale was top notch.
We spent much of the evening reconsidering our plan to visit Kinlochbervie on the west coast. The weather forecast for northwest Scotland was bad, with westerly gales, so we decided to cancel our booking and stay further east. Most accommodation is booked up despite the lateness of the season so we had few options and opted for another night in Bettyhill on Sunday. Unfortunately it's a different hotel as Monday's was fully booked, so we're staying at the Farr Bay, five minutes bike ride away!
Today's distance: 39 miles (62.7 km)
Today's ascent: 716 metres
Cumulative: 822 miles (1323.1 km), 15517 metres