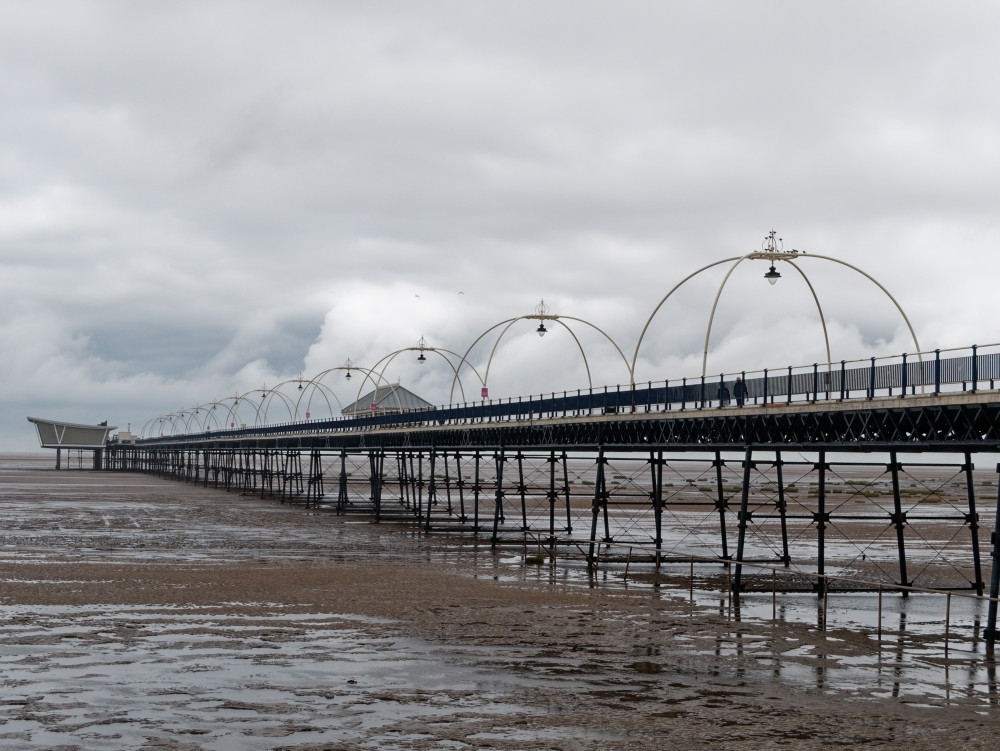 While Christine walked to Morrisons for breakfast and lunch provisions, I tackled the slow puncture. Submerging it in water revealed the spot, still hard to identify precisely since it was so tiny with a slow release of bubbles. Patch applied and wheel back on before she returned.
We called in on the electric bike shop round the corner to request use of their track pump, stuck a bit more air in the tyres and set off. The route took us along the sea front and past the pier, the sea goes out a long way along this stretch of coast and was out of sight. We rode past the salt marshes, along quiet lanes and narrow bumpy tracks, enjoyable cycling until the protracted crossing of Preston and its extensive hinterland.
On the way out, we met our first JOGLErs. They'd left John O'Groats on 10th August, taking in Cape Wrath and the Hebrides, riding only about thirty miles per day and camping. The Iced tea room was an unexpected delight along a minor road, after which the terrain became hillier, a foretaste of tomorrow. We checked in at the M6 Travelodge, reaching it in unconventional fashion via the back roads, arriving at 16:30, pity we couldn't have reached Southport at a similar time. It had been another sunny day after a gloomy start but with a strong westerly breeze.
Burger King and Costa didn't appeal, we were saved by M&S Simply Food, we took a stack of salads and falafels back to our room.
Today's distance: 44.6 miles (71.8 km)
Today's ascent: 452 metres
Cumulative: 543.3 miles (874.7 km), 9395 metres