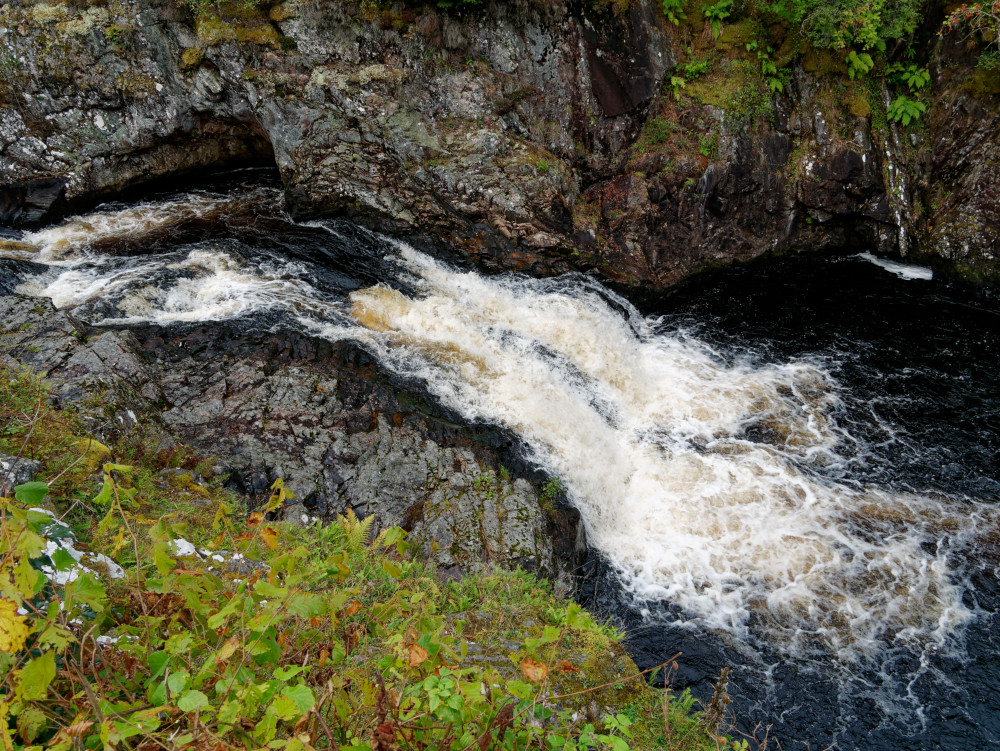 Inverness was a good hostel but we didn't sleep well, the duvet only just covered the mattress and the large party of Americans over for a conference were talking loudly and excitedly until well after midnight. We spoke to a trio of men about to start cycling the North Coast 500 route over breakfast, it was good to meet some real hostellers rather than people using it like a budget hotel.
For the first time, I started in leggings rather than shorts, and soon regretted it, after the early chill had been vanquished by the sun. Just as I was contemplating changing, the clouds appeared and the temperature dropped. The route out of the city isn't much fun, alongside the fast busy A9. There's a longer and more attractive alternative via Cromarty but the ferry stops running at the end of September but irrespective of that, we've done that before and this time needed a quicker route.
We had an early lunch at noon as we'd spotted a picnic bench on the village green at Evanton. The rain arrived soon after two, the afternoon being cold and wet. A Sustrans notice advised that the Invershin viaduct section involved steep steps so we took their alternative via Bonar Bridge, which was the same distance and the road wasn't busy.
We passed the viaduct and walked up the steps for a look, taking bikes up and down with luggage in the wet would have been arduous. The rain had almost stopped by now, and we paused to look at the Falls of Shin on the minor road to Lairg. The self catering apartment was very comfortable, the owners had even left a complimentary small bottle each of red and white wine. The Spar in the village was well stocked. After cancelling the Kinlochbervie detour, we'd tried to book a second night here but they were booked up so it's Bettyhill tomorrow, with a similar weather forecast to today.
Today's distance: 55.1 miles (88.6 km)
Today's ascent: 940 metres
Cumulative: 963.2 miles (1550.2 km), 17712 metres