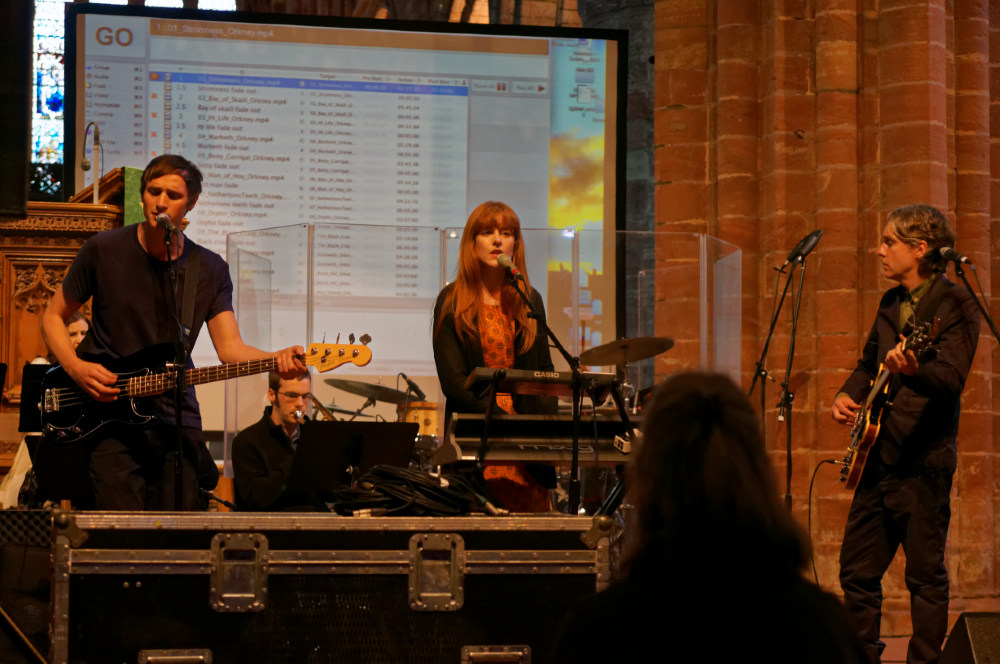 Before breakfast the sun shone briefly through a gap in the mist but the weather had closed in by the time we left at 08:50. We were aiming for the 11:00 ferry from Lyness but knew that the strong headwind would make this a strong challenge. I was sure we wouldn't make it so stopped for a couple of photographs, but in the event we arrived with seconds to spare, being the last to board. I'd have been in big trouble if I'd caused us to wait at the desolate terminal until the 12:30 ferry, particularly as heavy rain was forecast for the afternoon.
We landed at Houton and cycled past the Lodge where we'd spent our first night on Orkney. On that occasion we had to fight the wind from Kirkwall, now we had an equal battle with a fierce easterly to return. On arrival we dived into a cafe to warm up and dry the drizzle from our clothing. We'd arrived before the threatened deluge and had plenty of time to spare as the ferry to Shetland didn't leave until 23:45. We spent a long time in the very interesting museum, emerging to heavy rain, then dashed over to St Magnus Cathedral, relatively small and intimate with a wonderful stained glass window. This was the last night of the festival and Magnetic North were rehearsing their Orkney concert for the 19:30 performance. We'd considered attending and this made our minds up, but first we had to eat.
We reached Dil Se Indian restaurant at 17:00, conveniently open and with an appealing early dining offer. We shared a variety of starters and I had a saag balti for my main course, all very enjoyable. It was then time to move our bikes to the cathedral and lock them outside while we went in to buy our tickets. These were only available for the sides and the transept, all with restricted views, the penalty for keeping our options open. It was till a most enjoyable concert, lasting an hour. Not wanting to carry the CD around for the rest of the holiday, we resolved to buy a copy on our return.
Rather than look for a pub, we went from the cathedral to the ferry port, calling in on Tesco for a few early evening snacks to eat while we waited for the late ferry. To our dismay, we were informed that it was running half an hour late. We watched the BBC news on the waiting room television, the main news being severe weather in northern England, with the east coast railway line closed. Our original plan had been to come a week earlier, so we'd have been stranded an extra night. The ferry eventually left an hour late, luckily the rain had ceased so we stayed dry while waiting to board. The cabin was comfortable with a welcome shower but I'm bad at sleeping on the move so didn't have a good night. Despite the late departure, we still reached Lerwick on time at 07:30.