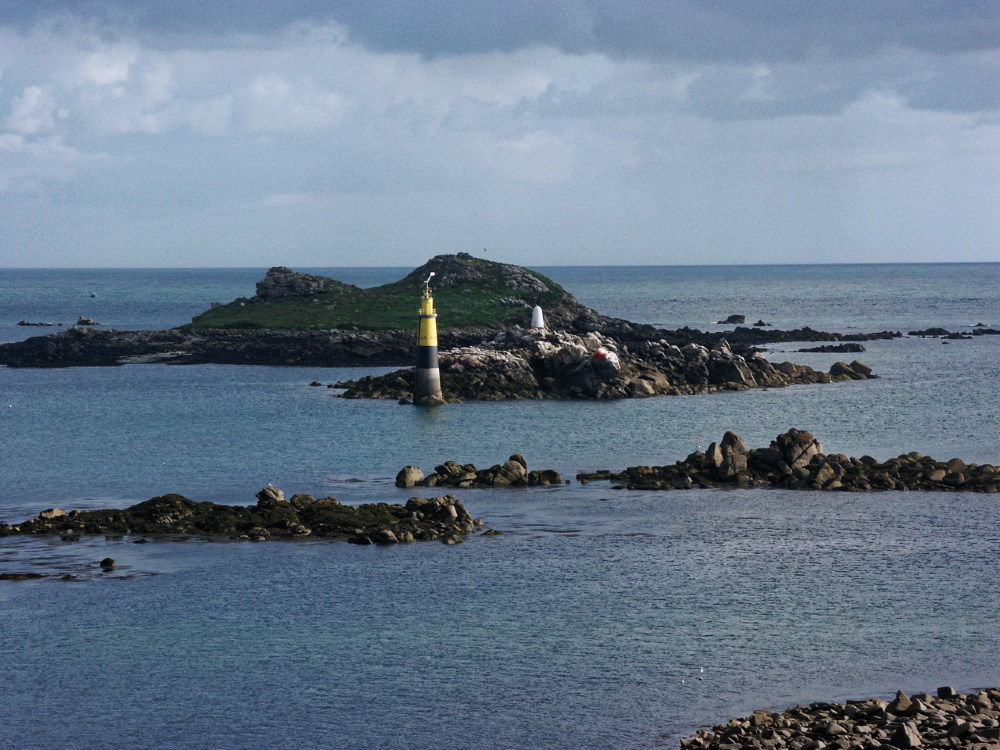 A minimal juice/croissant/coffee breakfast was provided for us at the ferry terminal, then we walked out to a promontary for the view and rode into the very pretty town to supplement our breakfast with coffee and a patisserie and to buy food for later. We were allowed on board early at 11:40 so we showered in our surprisingly large cabin and I changed into the souvenir Breton t-shirt I'd bought in Roscoff. We were joined by Giles, the other cyclist, for the very good complimentary lunch. We were disconcerted when there was no sign of movement at departure time and no announcement – not more trouble, surely. We eventually left half an hour late and we retired to our cabin for a nap.
We reached Plymouth at 20:30, cycled the short distance to the guest house we'd stayed at for the outward crossing and went to bed.
We slept really well, then rode to Plymouth railway station. Our advance purchase tickets were of course invalid so we had to buy single tickets at £96 each, a far cry from the cheap FEVE rides. Our options were the 10:25 Virgin Dundee service or the 11:00 First Great Western to London. We chose the former to get away earlier. We were too late for bike reservations so had to take our chances but weren't denied on any of the trains. It was the usual rubbishy Voyager experience, we had no food with us but there was nothing we wanted to eat in the shop. The latte was dreadfully weak, like drinking hot milk.
We arrived at Birmingham at 13:52, just in time to change onto the 14:00 Edinburgh departure which would take us as far as Crewe. Once again, luggage was piled in the bike space so we had to move it. A 15:03 Holyhead service was on the departure board so we squeezed on. A laden bike took up both the bike spaces in the class 158 unit but Christine found room by the catering trolley socket and I sat with mine in a vestibule. I was alarmed when we set off at 14:57 and even more so when we headed north up the West Coast main line rather than peeling off towards North Wales. There was no announcement, but a fellow passenger told us there'd been a fatality on the line so we were being diverted via Warrington.
We reached Bangor at 17:oo and rode home.